E-commerce law to boost regulation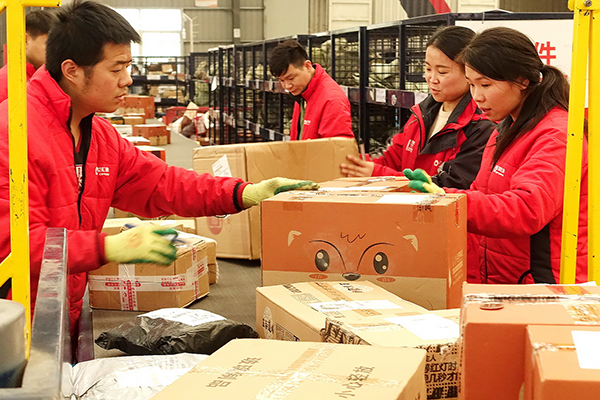 Workers sort packages after an online shopping spree in November in Fuyang, Anhui province. [Photo/China Daily]
Cross-border e-commerce will be more closely regulated in the draft of the country's first e-commerce law, which is being reviewed at the 25th session of the 12th National People's Congress Standing Committee from Monday to Sunday.
The country promotes the development of cross-border e-commerce and the establishment of a supervision and management system that suits cross-border e-commerce activities, in order to improve customs efficiency and ensure trade safety.
According to the draft, the country will digitalize the declaration, tax payment, inspection and quarantine procedures for cross-border e-commerce activities, which means the electronic receipts and certificates have the same legal force as paper ones, as well as promote the exchange and cooperation of cross-border e-commerce among countries, according to the draft.
Moreover, the draft said e-commerce business operators should protect personal information and business data that they obtained from trade when they carry out cross-border e-commerce activities.
Statistics from research firm iResearch Consulting Group show China's cross-border imports grew from 600 billion yuan ($86.4 billion) in 2014 to 900 billion yuan last year, and are forecast to hit 1.9 trillion yuan in 2018.
Kaola, a shopping platform run by online gaming services provider NetEase Inc, said the draft of the e-commerce law means that cross-border e-commerce and other e-commerce activities will be better regulated.
The draft pays attention to consumer information and privacy rights, and will greatly promote the standard operation of the industry, said the company.
Lu Zhenwang, CEO of the Shanghai-based Wanqing Consultancy, said cross-border e-commerce would be a new growth point for the e-commerce industry.
Chen Jin, director of the China services industry research center at the University of International Business and Economics in Beijing, said cross-border e-commerce has become an important way for the country to develop foreign trade, estimating its annual growth rate will surpass 30 percent in the next few years.
Apart from the cross-border e-commerce, the draft also emphasizes the duties and obligations of third-party platforms, stipulates the utilization and protection of e-commerce data and information, and regulates the electronic contract and payments, express and logistics services.
The existing laws can no longer keep up with the booming growth of China's e-commerce sector. The turnover of the country's online shopping market reached 3.8 trillion yuan last year, according to iResearch.
In 2013, the Financial and Economic Affairs Committee of the NPC initiated legislative work related to e-commerce. The main purpose of the law is to promote e-commerce, regulate the market and protect the legitimate rights and interests of major parties in e-commerce activities.