'Community commerce' takes root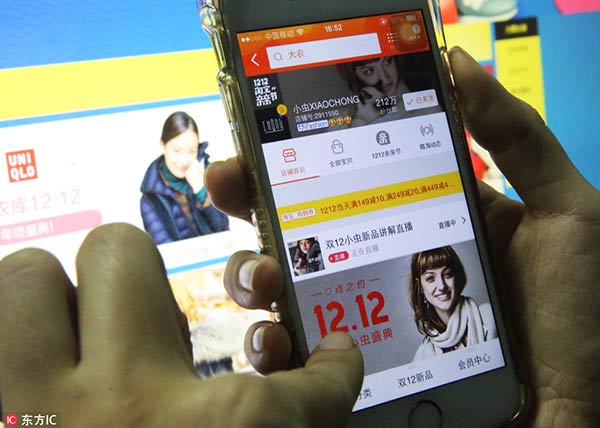 A resident in Qinhuangdao, North China's Hebei province buys goods on Taobao on Dec 12, 2016 . [Photo/IC]
Transaction value has become secondary for video bloggers and news feeds as "community commerce" took center stage during this year's annual shopping extravaganza on the Taobao platform.
Alibaba Group Holding Ltd regards mom-and-pop merchants as the best fit to foster personal ties among online buyers, pushing the e-commerce giant toward its long-held yet unmet goal for social media and entertainment.
In the lead-up to and during the Dec 12 sales gala, more than 5,000 live streams were broadcast daily on Taobao, attracting more than 10 million viewers on topics from fashion trends to cooking tips, according to company data.
Around 40 percent of the viewers end up visiting the online shops being promoted.
These are all part of Alibaba's drive to build a consolidated online ecosystem encapsulating e-commerce, mobile media and digital entertainment, said CEO Daniel Zhang.
"Through user-generated content, we want people to see Taobao more as the latest reflection of the mainstream lifestyle of the younger generation," he said.
Other efforts include a Q&A column Wen Dajia (ask others), a Quora-like feature where questions are raised, answered and edited by the community of Taobao users. On Dec 12, more than 5 million users asked questions and some 10 million gave their feedback.
Based on their shopping habits, the site encourages users to provide suggestions to peers on certain merchandise. It then filters and redirects users into groups with tags such as workout, pregnancy and cosmetics.
Chen Lei, a Taobao director who oversees live streaming for the site, said Taobao is geared toward professionally generated content.
"In the future, Taobao will continue to lead merchants, highly engaged users and live broadcast professionals to create a consumption-oriented live broadcasting platform," he said.
By blending e-commerce and social media, Alibaba has tried to shed the image of being a giant only in e-commerce, said Li Chao from iResearch Consulting Group.
While occupying only a small portion of the pie, Taobao, which resonated well among Chinese youngsters, helped Alibaba more than double its mobile revenue in the second quarter of 2016.
"The level of engagement Alibaba is able to create is beyond what we consider with search companies and social media companies. They're investing a lot in making their tools have social engagement like Facebook," Gil Luria, an analyst at Wedbush Securities Inc said in a research note.