A shares may rise in coming weeks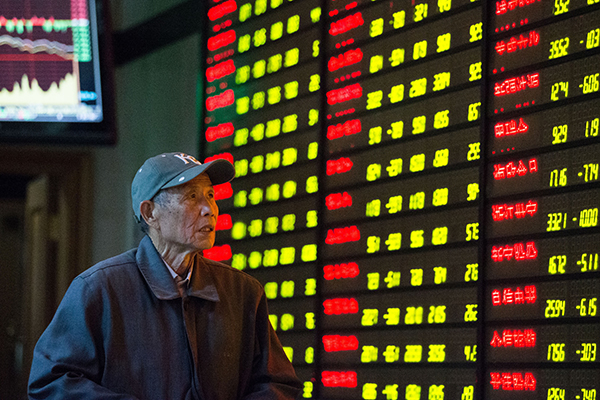 A pensioner, tension writ large on his face, checks stock prices at a brokerage in Nanjing, Jiangsu province, on Dec 12, when Chinese stocks fell the most in six months. [Photo/China Daily]
Big jump in online shopping, talk of pension fund investments stoke hopes of a rebound
The A-share market is expected to recover from recent declines as investors are optimistic after latest retail data reflected robust sales growth, analysts said.
Seasonal consumption and strong expectations that pension funds will start investing in stocks may drive markets, they said.
The Nov 11 Singles Day online sales contributed significantly to consumption growth, according to data of the National Bureau of Statistics. E-commerce sales grew 30 percent year-on-year in November, amounting to 18.5 percent of total retail sales, up from 15.8 percent in the same period last year.
"While this sales festival has been ongoing for several years and therefore its existence itself should not necessarily impact the year-on-year growth of retail sales, it has been gaining importance and therefore still impacts year-on-year and seasonally adjusted sequential retail sales," said Song Yu, economist with Gao Hua Securities in a research note.
Because an increasing number of listed companies in sectors like foods and beverages, clothing, jewelry, tourism and transportation are selling through both online and offline channels, many are benefiting from the seasonal sales surge.
Analysts said that last week's US Fed rate hike could mean better prospects and stronger confidence in economic recovery, which would benefit retail and consumption-driven sectors in the long run, particularly trade and export businesses.
The "modest shift" in key US interest rate could also mean better prospects for emerging markets like China, according to a research note from asset management firm Legg Mason.
Analysts expect companies in these sectors will continue to see revenue growth as the Christmas, New Year, and Chinese New Year holidays are approaching.
"Consumption-driven sectors, despite all the uncertainties about the macroeconomic situation and short-term policy changes, are likely to stand out at the year-end, when companies see significant income through sales revenue," said a research note from Changjiang Securities.
Railways, airlines, liquor makers, jewelry retailers and restaurant operators are particularly likely to see share price growth in the next couple of weeks, said the research note.
The expectation that pension funds will start investing in the A-share market in the next couple of weeks, may support recovery in benchmark indexes after a weeks-long correction, said analysts.
Although the exact date for pension funds' entry into the A-share market has not yet been announced, it is expected to be near the end of this month or at the beginning of 2017, according to a CITIC Securities' research note.
Dai Kang, analyst with Huatai Securities, said pension funds will have lower tolerance to risks, and may favor "defensive" sectors like pharmaceuticals, foods and beverages, and high-tech manufacturing.
"In the longer-term, the move will also help make the A-share market more stable, with more institutional investors and value-oriented investors participating," said Dai.
Last week, the insurance regulator said it will seek to reduce the proportion of total equity assets held by insurer funds to 30 percent from the current 40 percent, to curb speculative and overleveraged investments in stocks. This could improve investor sentiment, said researchers.
"It is good for both the stock market and the insurance sector to see clear boundaries between the lawful use of insurance funds to grow value and serve the goal of protection versus misuse of insurance funds for short-term, leveraged, and speculative stock trading," said a research note from Haitong Securities.