Consumer credit companies look to expand customer base with lower incomes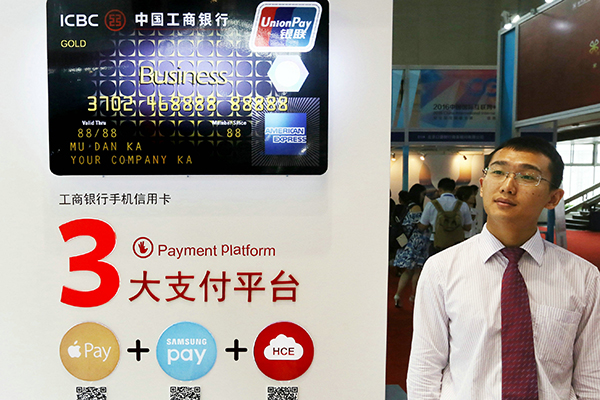 The booth of ICBC's mobile credit card division at the International Internet Plus Expo in Beijng in August. [Photo/China Daily]
Major consumer credit companies say they are highly confident about the growth potential of China's consumer finance market, and plan to further expand their customer base in the mainland, mainly to those clients with middle and low incomes as well as rural residents.
China's consumer finance products customers are mainly young people aged below 30, and more than 60 percent of them have a monthly income lower than 5,000 yuan ($720), according to a new report released by the Center for China in the World Economy at Tsinghua University.
The report said most of the customers don't have credit cards and credit histories. Most of them use loans to buy durable consumer goods, mainly household electrical appliances, in addition to motorbikes, electric vehicles and agricultural machinery. Although concerned about the lending rate, over half of customers are more concerned about the application requirements and difficulties of getting approval.
"China's consumer finance market has a huge potential and we are confident we will grow with the local market," said Ondrej Frydrych, CEO of Czech-based Home Credit, a leading foreign lender to consumers in China.
"We will further increase investments in China, deepen our business, and expand our customer base of people with lower incomes," he said.
With a nationwide distribution network and customer service network in China, Frydrych said Home Credit had a clientele that was mostly not financially sophisticated. He said his company wanted to help them to promote their financial literacy and understand their responsibilities as well as the process of loan repayments.