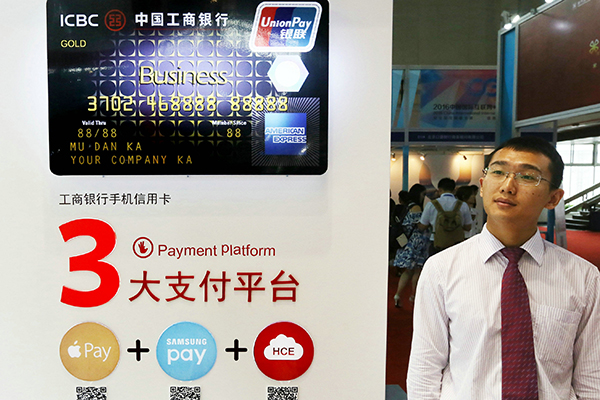 The booth of ICBC's mobile credit card division at the International Internet Plus Expo in Beijng in August. [Photo/China Daily]
China's commercial banks are fighting back to retain their share of the consumer finance market as competition from peers and non-banks intensifies. Their new resolve is on display in promotions aimed at cashing in on public holidays.
For instance, the coming week-long National Day-related shutdown in October has prompted Bank of China Ltd, the country's fourth largest commercial lender by assets, to launch new discount deals and cash rebates.
Till Oct 31, holders of BOC credit cards co-branded with UnionPay, Visa or MasterCard can receive a 10 percent discount on transactions worth up to 5,000 yuan ($750) at offline merchants overseas, subject to a maximum discount of 800 yuan per card. Each cardholder is allowed to participate in the scheme once a month.
Besides cash rebates and discounts on tourist routes, many banks are offering deals for flight and hotel bookings, car rentals and shopping in other countries.
For instance, China Merchants Bank Co Ltd has tied up with multiple airlines to offer flight ticket deals. Under a scheme that started on Sept 1 and will run till Oct 31, CMB-Visa credit cardholders will enjoy an 8 to 10 percent discount on Korean Air flights departing from the Chinese mainland in the September-December period, if they buy tickets on the airline's website in China.
Banks are also offering various privileges like discounts at designated merchants, hotels and restaurants, cashback, mileage rewards and hospital registration in advance.
Since 2009, China Guangfa Bank Co Ltd's credit cardholders have been accorded 50 percent off or "buy one, get one free" offers at designated merchants like Starbucks and Dairy Queen every Friday during certain periods of the year.
Ling Huanian from the credit card center of China Guangfa Bank said "intense competition from online players in the consumer finance segment is forcing traditional card players to innovate". For example, they now use biometric systems to reduce processing time for card issuance.
Currently, several banks, including CGB, China CITIC Bank Corp Ltd and China Everbright Bank Co Ltd, have launched instant issuance of online cards.
Using online channels, banks are reaching out to potential customers through mobile phones and hand-held devices. Easy-to-fill quick electronic applications for credit cards are fast becoming the norm, Ling said.
Lenders should integrate big data in their operations so that customers could receive customized financial services like consumer credit, he said.