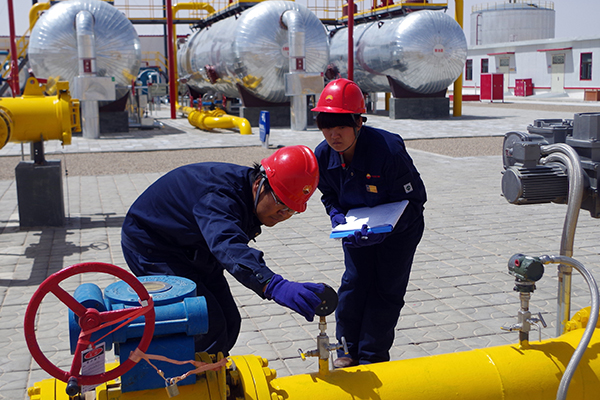 China National Petroleum Corp technical employees check facilities at Qinghai oilfield. [Photo/Xinhua]
China National Petroleum Corp, the country's biggest oil and gas producer, is a step closer to completing a backdoor listing of its engineering assets after its Shanghai-listed target company approved the plan.
Xinjiang Dushanzi Tianli High & New Tech Co, based in northwestern China's Xinjiang Uygur autonomous region, agreed to buy seven engineering companies from CNPC at total estimated value of 25 billion yuan ($3.7 billion), it said in a Shanghai exchange filing on Sunday. Xinjiang Dushanzi will sell 19 billion yuan worth of new shares to CNPC and will pay 6 billion yuan in cash to finance the purchase, it said in the statement.
CNPC Chairman Wang Yilin said in February the company aims to spin off its oilfield services business as it seeks to become more efficient.
The State-owned energy giant will be among the first of the nation's expansive government-run enterprises to start reforms that will transform it into a strategic holding company that no longer manages day-to-day operations of its subsidiaries.
Jinan Diesel Engine Co, another CNPC backdoor listing target, last month announced details of a share sale to raise as much as 20 billion yuan as part of a plan to take on financial business assets from the sprawling energy company.
Xinjiang Dushanzi plans to buy units including China Petroleum Engineering & Construction Corp and China HuanQiu Contracting & Engineering Corp, the filing shows.
Bloomberg