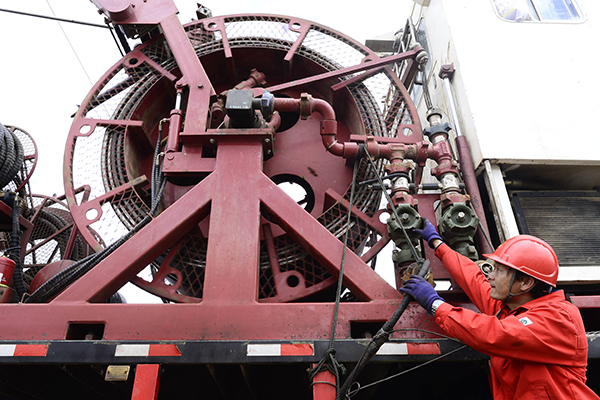 An employee of China National Petroleum Corp works at the company's site in Huatugou, Qinghai province. [Photo/Xinhua]
Move dovetails with possible plans to turn firm into strategic holding company
China National Petroleum Corp, the country's biggest oil and gas producer, may use a small-cap company called Daqing Huake Co as a vehicle to list its oilfield services unit and avoid an initial public offering, according to sources.
CNPC, which owns about 55 percent of Daqing Huake through two subsidiaries, is also considering using the Shenzhen-listed company for its equipment-making unit, said the people. There is no timeline for the possible listing, they said. Daqing Huake board secretary Meng Fanli and a Beijing-based spokesman at CNPC separately declined to comment.
Daqing Huake rose as much as 8.6 percent, the biggest intraday advance in three months, before paring its gain to trade up 3.7 percent at 26.44 yuan ($4.01) at 10:08 local time. The CSI 300 Index of some of China's largest companies listed in Shanghai and Shenzhen slipped 0.2 percent.
CNPC announced so-called backdoor listings earlier this year to inject its engineering unit into Xinjiang Dushanzi Tianli High & New Tech Co and financial business assets such as Kunlun Trust Co and Kunlun Financial Leasing Co into Shandong-based Jinan Diesel Engine Co.
CNPC would be the last among China's big three State-run oil companies to list its oilfield services unit. China Petrochemical Corp merged its oilfield services assets into smaller listed unit Sinopec Yizheng Chemical Fibre Co in 2014.
CNOOC Ltd, the country's biggest offshore producer, took China Oilfield Services Ltd public in 2002.
CNPC Chairman Wang Yilin said in February the company plans to spin off and list its oilfield-services business. The listing dovetails with plans to possibly transform the energy giant into a strategic holding company that won't manage day-to-day operations of its subsidiaries.
A backdoor listing is a way to take a company public without an IPO by moving assets into an already-listed stock. Waiting times in China for a traditional listing can be more than four years after a company files an application, based on the estimated number of deals per year and the size of the backlog.
The China Securities Regulatory Commission this year has approved 98 IPOs out of 844 applications it processed as of Sept 1, according to data from the commission.
Bloomberg