Chinese stocks, currency struggle after Fed raises rates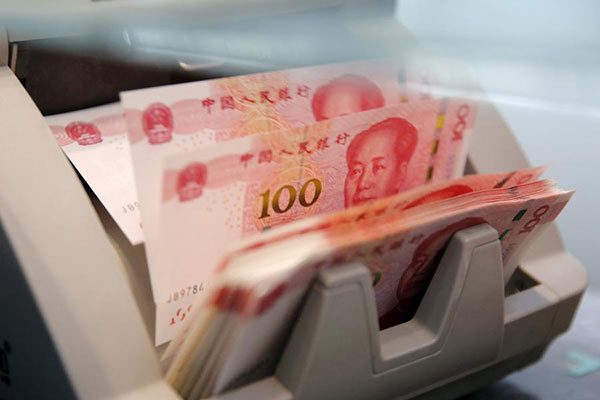 Chinese 100 yuan banknotes are seen in a counting machine while a clerk counts them at a branch of a commercial bank in Beijing, March 30, 2016. [Photo/Agencies]
Chinese stocks and currency struggled on Thursday after the Federal Reserve raised rates for the first time in a year.
The central parity rate of the Chinese currency renminbi, or the yuan, weakened 261 basis points to 6.9289 against the US dollar, according to the China Foreign Exchange Trading System.
The benchmark Shanghai Composite Index opened 0.47 percent lower at 3,125.76 points. The smaller Shenzhen Component index opened 0.30 percent lower at 10,202.24 points. The ChiNext Index, China's NASDAQ-style board of growth enterprises, was down 0.27 percent to open at 1,957.71 points.
The US Federal Reserve on Wednesday decided to raise benchmark interest rate by 25 basis points, the first and only rate hike in 2016.
"In view of realized and expected labor market conditions and inflation, the (Federal Open Market) Committee decided to raise the target range for the federal funds rate to 0.5-0.75 percent," said the Fed in a statement after concluding a two-day policy meeting.
Yields on short-term US debt surged to the highest since 2009, sending the dollar to peaks not seen in almost 14 years.
In late New York trading, the euro fell to $1.0578 from $1.0619, and the British pound declined to $1.2616 from $1.2668. The Australian dollar decreased to $0.7451 from $0.7495.
Fed rate hike raised the devaluation pressure on currencies of some major emerging economies pegged on the US dollar, Haitong Securities analyst Jiang Chao wrote in a research note.
On the other side, the United States is the "water faucet" in the global market, Jiang said, adding that capital is expected to return to emerging economies after Fed increases rate hike projections.
Furthermore, global trade protectionism reemerges currently, which is worse for some export-dependent emerging economies, said Jiang.
The exchange rate is ultimately decided by economic fundamentals, Jiang said. "Despite of a stable domestic economic growth in short term, downward pressure on China's economy still remains".
If the Federal Reserve increases the number of projected interest rate hikes in the second half of next year, the devaluation pressure on Chinese yuan will return, Jiang added.
China's foreign exchange reserves fell for the fifth straight month in November, the country's forex regulator said Wednesday.
Foreign exchange reserves stood at $3.05 trillion last month, down $69.1 billion or 2.2 percent from October, the State Administration of Foreign Exchange said, citing figures from the central bank.
The November figure is the largest monthly drop since January this year, and it brings China's foreign exchange reserves to the lowest level since March 2011.
Xinhua contributed to this story.