'Nation remains key FDI hub'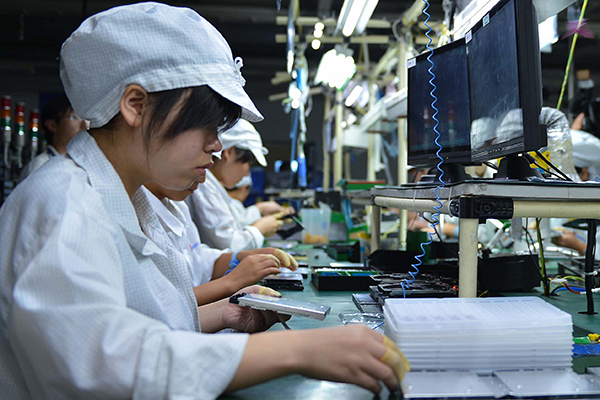 Workers assemble smartphones at a Foxconn Technology Group plant in Yantai, Shandong province. [Photo provided to China Daily]
Foxconn plan to invest in the US unlikely to harm China's overall prospects, say experts
China's attraction as a top investment destination remains strong due to the advantages offered by its supply chain, infrastructure and market size, experts said, after a major Apple Inc supplier confirmed it is mulling investment in the United States.
Foxconn Technology Group, which employs hundreds of thousands of workers in the Chinese mainland assembling the iconic iPhones and iPads, said it is in preliminary talks to expand its operations in the US.
"While the scope of the potential investment has not been determined, we will announce the details of any plans following the completion of direct discussions between our leadership and the relevant US officials," Foxconn said in a statement.
The comments came after a Foxconn logo was spotted on a document held by SoftBank Corp CEO Masayoshi Son when he wrapped up a meeting with US President-elect Donald Trump in New York. The Japanese firm pledged to invest $50 billion in the US over the next four years.
It is not so easy to relocate manufacturing, said Sun Lijian, a professor of economics at Fudan University, citing the need to find properly skilled labor and build a solid supply chain.
"China has clusters of efficient suppliers inside the country and across neighboring ASEAN economies, which other countries, even including the US, would struggle to duplicate," Sun said.
China also has improved infrastructure that facilitates logistics-the country plans to build 10 airports a year until 2020-as well as a growing level of automation, a goal upheld in the government's Made in China 2025 strategy, he added.
While investors are drawn to the US economy because it has a skilled and productive workforce and favorable tax policies, the possible Apple relocation is likely to consist of final assembly, rather than high-tech component manufacturing, said Xu Mingqi, a senior research professor at the Shanghai Academy of Social Sciences.
China is also grabbing a bigger share of higher-margin customer services, which would in turn strengthen Asian supply chains. "In this context, local contractors have the edge over distant rivals," he said.
In addition, more than 60 percent of US companies in China still regard the country as among top global investment destinations, according to a survey by the American Chamber of Commerce in China and Bain & Co earlier this year.