China Eastern tipped for C919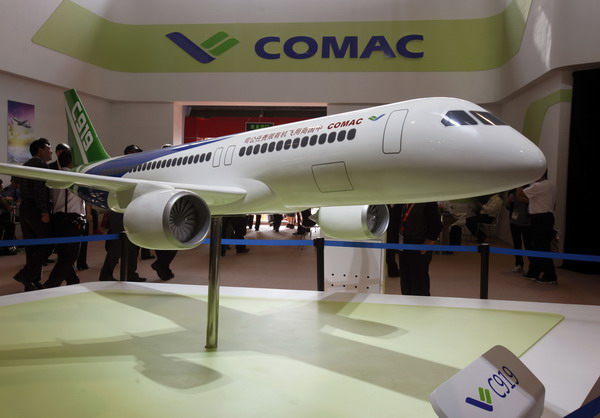 A model of C919 passenger plane, which is built by the Commercial Aircraft Corporation of China (COMAC). [Photo/Agencies]
The Shanghai-based China Eastern Airlines, one of the three major State-owned Chinese airlines, will become the first to take delivery of the homemade single-aisle passenger jet C919, domestic plane-maker Commercial Aircraft Corp of China (COMAC) revealed on Tuesday at Zhuhai Air Show.
If everything goes right, the first test flight of the 168-seat C919 is expected to be conducted by the end of the year, and conservatively speaking, it could be in early 2017, COMAC said on Tuesday.
"Our staffs are working on the project nearly 24 hours a day, and we would like to speed up the pace to conduct the first test flight," said Yang Yang, director of Marketing Research Center at COMAC Shanghai Aircraft Design and Research Institute.
Within one year of the test flight, China Eastern will start discussions to purchase five C919 aircraft, according to the statement released on Tuesday.
Meanwhile, on Tuesday at the Zhuhai Air Show, COMAC also signed an agreement with Shanghai-based aircraft leasing company SPDB Financial Leasing, and COMAC has received five confirmed orders and 15 intentional orders, it said.
China is gearing up to reach its ambitions to become a global aviation power, by building its own aircraft with homemade aero-engine. So far, COMAC has received over 570 orders of C919 from 23 customers.