Editor's note: The 11th G20 Leaders Summit, to be held in Hangzhou from Sept 4 to 5, will seek to deepen efforts to secure international financial stability, economic cooperation and reform of global economic governance for long-term and steady growth. As many as 30 outcome are expected as leaders of developed and developing countries, global financial institutions and economic blocs brainstorm at what is likely to prove the most representative and inclusive G20 summit ever. China Daily picked some of the finest brains among industry captains, quizzing them on their expectations. Here, we present their views and insights, gathered from companies big and small, across a range of industries.
Q1: The G20 Summit in Hangzhou in September will prepare an innovation-driven growth blueprint that could discover new growth engines for the world's economy. According to you, what will be the new driving force?
Q2: What is your major expectation for the G20 Hangzhou Summit? Are there any topics that particularly interest you?
Q3: What would the G20 Hangzhou Summit bring to China and the world?
Q4: What are the most pressing challenges facing your business development in China? And what are your key business goals for the next three to five years?
Chief Executive Officer of Citi China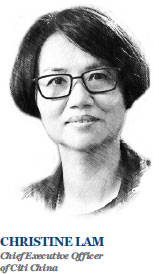 A1: I believe technology will continue to be a driving force of innovation in multiple ways not only for the banking industry, but across a range of industries. Technology enables a whole different model of how goods and services are developed, deployed and consumed. For banking, financial technology (Fintech) is developing at an unprecedented pace. This is particularly true in China given the size of the digital ecosystem. Driven by ongoing trends of digitization, urbanization and globalization, banks, including Citi, are adapting our strategies so that we can leverage on the newest technology to continue meeting our customers' evolving needs and preferences.
A2: We hope to see a blue-print for innovation-driven growth that will benefit global economic recovery and sustainable development. We are also hoping to see development that can further enhance the overarching international financial infrastructure. With the RMB being included into the Special Drawing Rights basket of currencies, we are all keen to explore how the China market will transform to play an even greater role in promoting and facilitating the growth of international trade as well as cross-border investment and cooperation.
A3: This is the first time we see the G20 Summit being hosted in China. It certainly demonstrates the country's ongoing importance in contributing toward international dialogue. Moreover, as the world economy continues to experience challenges and seek concrete and sustainable recovery, this Summit provides an important platform for the international community to come together and discuss the common issues they all face, and the common actions needed to drive for international economic cooperation as well as global economic governance reform.
A4: Citi's history in China can be traced back to 1902. Over the years, we have accumulated a wealth of experience operating here and are proud to have maintained a strong presence. Today, China is a global economic powerhouse that is undergoing transformations. With the country's economic transitions continue to make headway, we are focused on remaining future compatible so we can continue providing value to our clients and customers. Combining the solid foundation we have forged over the past decades, the strength from our global network and our commitment to continue enhancing our customer value propositions, we are confident that we are well-positioned to continue growing alongside China.
Vice-President of Carestream Health Inc and president of Carestream's Greater China Cluster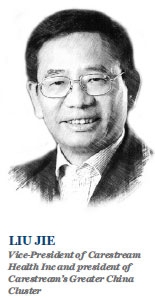 A1: Currently, economies worldwide including China are under tremendous pressure caused by sluggish growth. The traditional pattern of growth has failed. How to find out a new approach for achieving further growth is a leading item to be discussed at this year's G20 Summit. The G20 Summit in Hangzhou will focus on the theme of "Toward an Innovative, Invigorated, Interconnected and Inclusive World Economy". Innovation provides the driving force for long-term global growth.
A2: The G20 Summit is an international economic cooperation summit, that aims to promote discussion and studies on substantial issues between developed countries and emerging market countries, so as to improve financial stability and sustainable economic growth. Personally, I feel interested in financial innovation and supervision, the impact of the internet on the real economy as well as trade protectionism.
A3: The timing of this year's G20 Summit in Hangzhou, which overlaps with the duration of China's 13th Five-Year Plan, offers a wonderful opportunity for China to present the "China Solution Program". China is at a key stage of economic transformation involving issues such as industrial overcapacity, economic slowdown, financial innovation and supervision, and the list could go on and on. The G20 Summit in Hangzhou provides an unparalleled window of opportunity for China to learn and draw lessons from developed countries in terms of handling the above issues. In addition, the engagement of G20 members with the "One Belt One Road" and other programs proposed by China will be realized. The world economy will also benefit from the process of assisting China in exploring more efficient growth models through innovation.
A4: In China, the primary challenge we're facing are the rocketing costs of labor, manufacturing and so on. China is not a "low cost country" anymore. Our goal for the next few years is to increase work efficiency through innovations covering product innovation, business model innovation, service innovation among others and hence to fulfill the business object of sustainable growth.
Corporate Vice-President, Chairman and Chief Executive Officer, Microsoft Greater China Region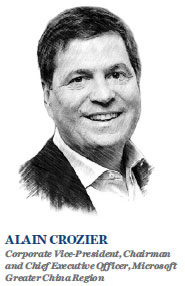 A1: Digital transformation will be the driving force behind innovation-led growth in China and around the world. This includes the digitalization of traditional industries, the development of the digital economy, and the integration of technologies into city management smart cities. Cooperation between countries, businesses and local governments at all levels will be a critical component of successful digital transformation and innovation-led growth. And, while cooperation and policy support will provide the framework, implementation will rely on intelligent technologies and solutions leveraging cloud and data platforms with the internet of things and intelligence capabilities such as AI and machine learning, among others.
A2: Although the G20 Summit in Hangzhou will once again focus on building a healthy and interconnected global economy through close cooperation and exchange, this summit will put a much greater emphasis on innovation as a driver of economic growth. Technological innovation and the digital transformation of industry and business processes will play a critical role in the development of the world economy. Innovation will help optimize productivity in existing sectors while creating entirely new areas for growth. Innovation will also facilitate cooperation between countries and businesses in the global marketplace while breaking down impediments to growth and exchange.
A3: The G20 Hangzhou Summit is an incredible opportunity for countries to share their differing experiences and viewpoints, especially in terms of how they are using their own unique advantages to transform their economies to address today's challenges and opportunities. Increased access to world-leading technologies such as cloud and the internet of things is allowing countries to pursue digital transformation based on their own unique circumstances. Cooperation and exchange will help China land its own digital initiatives at home, such as Internet+ and Made in China 2025. China's shift toward a more innovation-driven economy will have a positive impact on the world economy.
A4: The pace of change in China is extraordinary. It has truly become an innovation leader, developing and leveraging advanced technologies to fuel its digital transformation. As a platform and productivity company, Microsoft is committed to partnering with China to achieve its digital transformation goals. Within this context, our greatest challenge is keeping up with rapid changes in China and helping partners to transform with us. That's why it's so important for us to work closely with them to really understand their needs. Over the next few years, we plan on deepening our cooperation with China to help empower its digital transformation.
President of Nielsen Greater China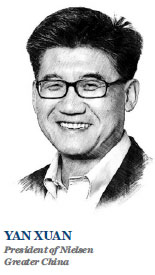 A1: Consumption will be a driving force of the world's economy. As a consumption upgrade has started in many parts of the world, products and services that can meet consumers' new needs will help to boost economic growth, for example, environmentally friendly products, and innovative products that can bring convenience or improve life quality can all attract consumers.
A2: I hope that G20 Hangzhou Summit can serve as an effective platform for national leaders to discuss global challenges and reach a consensus on solutions to resolve them. For example, issues such as global economic recovery, sustainable development and climate change. These are the most pressing issues for us and in today's highly globalized society, no single country can ignore those issues or solve them on its own. It takes the international dialogue mechanism like G20 to resolve them. Besides, I am particularly interested in the "innovative" part of the four "I"s, because the key to future development lies in innovation.
A3: Hosting the G20 summit can improve China's impact in the global community and its global governance capabilities. It shows that China is no longer an outsider in international policy-making, but is an important participant. China can also take advantage of this opportunity to promote the Belt and Road Initiative and the Asian Infrastructure Investment Bank.
As China is the driving force of the global economy, it is important for the world to know about China's ideas. Holding the G20 summit in China can add different angles to our way of looking at global economic development. It is also the first time that "innovation" is an important topic of the summit.
A4: China is now at a crucial point of economic transformation and reform, along with that come many changes, such as the new normal and new trends in consumer behavior. Thus the major challenge for our business is to adapt to the changing economic environment and find the driving force for our growth in the future.
Over the next three to five years, we hope to seize the opportunity of the technological revolution and digital development, in order to provide better, more accurate and innovative services for our customers with the help of technological advancement and big data.
President of Thermo Fisher Scientific China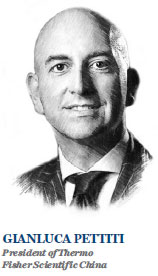 A1: Innovation is key to progress and nowadays we can't talk about progress without considering sustainability. So when I think about innovation I expect it to be functional in order to accelerate growth in a sustainable way whether it is social sustainability, environmental or building a sustainable and scalable healthcare ecosystem. Some actions might include allocating more capital to R&D and infrastructure, as well as implementing sound regulations to facilitate the transformation of global value chains. As the world leader in serving science, we at Thermo Fisher Scientific spend more than $700 million a year to create innovation that enables our customers to make the world healthier, cleaner and safer. I believe pursuing sustainability will be a key area of growth in the future and we are seeing it today already with renewable energies, healthcare, the sharing economy and so forth.
A2: Sustainable development of the environment, society and the economy will be one of the key topics for me. There have been several discussions on the importance of promoting sustainable and balanced development, and G20 provides a great platform for countries to discuss and agree on common initiatives to accelerate growth. One area of particular interest tome is the adoption of technology and innovation, and how through international agreement and cooperation we can accelerate it.
A3: The 2016 G20 Summit in China is one of the most important international platforms for major developed and developing countries. After two historical milestones last year, the UN 2030 Agenda for Sustainable Development and Paris Climate Agreement, I expect the G20 this year to bring further substance to these strategic approaches and to complement them with an indication of action to sustain global growth. One area that is particularly important tome is the continuing liberalization of trade as well as accelerating market reforms. We could be so much more effective in improving living conditions by having an interconnected regulatory system across the world. At Thermo Fisher Scientific we can't wait to bring some of our best technologies and innovations to everyone in China.
A4: China is our second largest market outside of the United States. We have been able to grow our business in China significantly over the last few years, scaling it to close to 4,000 employees today and serving thousands of customers across the nation. Our focus in China has been to serve our customers in fields like pharma, healthcare, environmental and food safety, and we continue to foresee strong opportunities in these segments going forward. At the same time we believe that market needs are changing and our capability to capture this growth will rely on more "in China for China" innovation. This brings us closer to our customers as we continue to invest in our local R&D capabilities, having more than 100 scientists today, focused on "in China for China" innovation projects.
President of Asia Pacific Region, Johnson Controls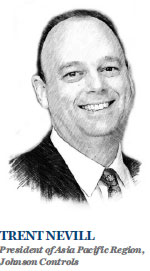 A1: Innovation has already become a requirement for growth in economies around the world. How innovation will drive future growth is dependent on finding scalable and sustainable solutions. Global mega trends like urbanization and the growth of the middle class are driving demands for products related to comfort, safety and mobility. Consumers are more focused on energy efficient solutions that get the job done while minimizing impact to the environment. And the internet of things is redefining what connectivity means, creating a completely new platform for innovative products. Underlying the success of innovation-driven growth are the government policies, energy efficiency and multilateral partnerships.
A2: We are glad to see cooperation initiatives at the G20 focused on sustainability and energy efficiency which are strategic focus areas for Johnson Controls. We are closely following two topics: "breaking a new path for growth" and "inclusive and interconnected development". We are also looking forward to attending the B20 Summit along with our global and local peers. We want to play an active role in the international business community and continue to participate in global economic governance.
A3: China's presidency of the G20 brings the country a unique opportunity to strengthen its international profile and demonstrate its commitment to the global community. As President Xi Jinping said, China wants to build "an innovative, invigorated, interconnected and inclusive world economy".
At a time when the global economy remains sluggish, the G20 summit brings together developed and developing nations to forge an agenda that will stimulate the progress of economic reform around the world.
A4: Johnson Controls has more than 130 years of success and consistent performance across the world, and yet I think the next three to five years will bring changes to our business unlike anything we've seen before.
Our customers have sophisticated needs and our competitors are changing every day. In order to best serve our customers in China, we are making investments in manufacturing and R&D facilities, and establishing strategic partnerships. Next spring we will open our second global headquarters in Shanghai, which will be a symbol of our commitment to the region and living showcase of our products and solutions.
VP and MD, Wrigley China, a subsidiary of Mars Inc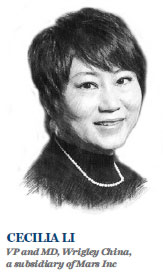 A1: A key driver for our sector is e-commerce, which is driving enormous growth in China and around the world. China has one of the world's largest and most dynamic e-commerce ecosystems, and has huge potential for innovation. For Mars, we recently launched an innovative global strategic business partnership with Alibaba, which not only enables us to more effectively serve our hundreds of millions of consumers in China, but also helps us stay on top of the fast-paced evolution of e-commerce and consumer trends through technology like big data analytics and internet thinking.
A2: As one of the world's largest food manufacturers, Mars is most interested in relevant industry topics like climate change and food security. These are global challenges that require global solutions, and the G20 is a great platform for the world's leading economies to come together and take the lead in addressing these challenges.
Mars is committed to being a part of the solution. We have made a firm commitment to eliminate green-house gas emissions from our operations by 2040, and because we see food safety as critical to food security, we have also invested in a Global Food Safety Center based in Huairou, Beijing. We hope to see more efforts in encouraging and rallying governments and businesses to do more in these areas.
As the theme of the summit revolves around "building an innovative, invigorated, interconnected and inclusive world economy", I am also interested to learn more about innovative approaches to boost international trade and investment, and promote inclusive and interconnected development. I believe Mars will have a role to play in this journey.
A3: Mars believes that solutions can only be found if they are based on achieving mutual benefits for all stakeholders, which is also a principle embodied by the G20.With a focus on innovation and collaboration, the Hangzhou summit will be an important platform to drive shared progress in China and around the world. We look forward to seeing the outcomes of the Summit and exploring how Mars can contribute to key areas like climate change and food security.
A4: Consumption trends in China are constantly changing, especially with young Chinese consumers becoming a new driving force in consumption. The challenge for us, as for any company in the FMCG industry, is to remain relevant in meeting consumers' evolving needs and preferences.
However, we remain highly optimistic in our China business. There are huge opportunities for Mars, as the categories we are in, such as confectionery, chocolate and pet care, all have great growth potential waiting to be tapped.
Chairman of Qualcomm China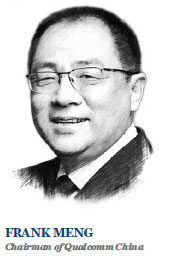 A1: At a time of economic uncertainty, innovation, especially technology innovation, is being relied on as a primary pillar for global economic growth.
The next generation of innovation in mobile technology is 5G, and it will infuse new life into the world's economy. 5G technology will connect new industries and enable new services with higher efficiency, which will enable the next Industrial Revolution: the Internet of Everything.
Qualcomm is leading the development of 5G, just as it led 3G and 4G. 5G is a unified, more capable communications fabric that will take on a much bigger role than previous generations of mobile technology by connecting our cities, industries and selves.
A2: As we all know, the world economy development and cooperation has come to another important crossroad. We expect that humans can lead the world economy to a new round of growth by cherishing the historical opportunity of technological progress and industrial revolution.
On this basis, how wireless technology, as an enabling technology, stimulates the further innovation within various industries around the world will be a long-term focus of ours. We believe that, once again, smartphones will redefine the mobile experiences with new features and capabilities in the nearing technological revolution; moreover, the internet of everything era will accelerate industrial transformation and boost the next round of industrial revolution.
In fact, Qualcomm is one of the biggest contributors of technology innovation. The company has invested an accumulated $41 billion in R&Dto drive innovations around wireless technology.
A3: The introduction of innovation to the G20 agenda as a pillar of global economic growth will help drive China's economy toward strong, sustainable, and balanced growth.
By advocating for innovation, audiences globally will be introduced to the important role that intellectual property rights play in accelerating innovation, which will in turn strengthen the public's appreciation for intellectual property.
A4: We are encouraged by our business development outlook, and we continue to deepen our level of cooperation with Chinese companies. Qualcomm is glad to be a "partner of China" during the economy's transformation, promoting innovation together with our Chinese partners and driving the development of wireless technology in China and around the world. In the next three years we will continue to support the country's goal of encouraging a global innovation network as outlined in the 13th Five Year Plan.
For over 20 years in China, Qualcomm has been a pioneer in sharing R&D achievements with our partners. And today, we are collaborating with China's OEMs to make innovations in a vast majority of verticals, including the next generation of information and network technology for cloud computing, IoT, big data, smart device, and integrated circuits.
Vice-President of Analog Devices Inc and managing director of ADI (Greater China)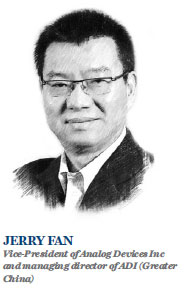 A1: The theme of the 2016 G20 summit is focusing on working together with members toward an innovative, invigorated, interconnected and inclusive world economy. This is very much in alignment with ADI's value system. As one of the leading semiconductor companies, ADI always sees technological breakthroughs and innovation as the single most important building block of its corporate DNA, ever since the company was founded in 1965 on the MIT campus. ADI's innovation is fueled by the fact that 46 percent of our organization is comprised of engineers. In the past five years, ADI dedicated an average 19 percent of its annual revenues to R&D, totaling $2.7 billion in 2011-15. Throughout the years, working with ecosystem partners and customers has always been instrumental and beneficial to ADI in terms of both short and long-term strategies. Therefore, we believe that growth through innovation and joint development championed by the G20 Summit are the two principles, challenges as well as opportunities for any companies who want to grow with China.
A2: ADI expects that at the upcoming G20 Summit, delegates can successfully develop a blueprint game plan for innovation and growth. In China, domestic and foreign companies can jointly work together to spark innovation and generate more trade opportunities.
Among the four major G20 Summit themes, ADI is particularly interested in the innovation growth mode. Innovation is not only the driving force of economic development, it is one of the keystones of ADI's core value system. ADI designs and manufactures semiconductor products and solutions with unmatched technologies that can sense, measure and connect. They intelligently bridge the physical and digital worlds, enabling our customers to better interpret the world around them. Over the years, ADI is committed to building a larger, more efficient industry ecosystem, driving the relevant industry upgrading and restructuring, and further contributing to the dynamic global innovation and development.
A3: One of the reasons that Hangzhou was selected to host this prestigious event is to recognize that innovation, such as the internet+, is the key driver for the new economy. Among the 10 key agenda items of this G20 Summit, Charting a New Path for Growth tops the agenda. It is expected that the progressive implementation of the 10 key agenda items at this G20 Summit will provide clearer guidance and additional market opportunities for high-tech companies, including ADI. This clearer guidance will form the foundation for companies to work with each other and/or their ecosystem partners more closely, which will benefit both China and the world.
A4: As an innovation-driven company, ADI has 50 years of history as the world's leading high-performance signal processing solutions provider. China is a fast-growing market for ADI. The size of this market presents an enormous opportunity for ADI, while the rapid changes and diversified customer needs here also pose unique challenges. Throughout the years, ADI's China team has consistently recruited local talents, who helped transform the company to one that is much more sensitive and responsive to this country's needs. Our locally trained team is also credited with devising a fluent China strategy that foresees new challenges while commanding a leadership in this exciting industry. In the next three to five years, ADI will be firmly committed to emerging fields, such as smart cities, industrial IoT, smart transportation, smart agriculture, green energy etc. These initiatives are in line with the direction of industry restructuring and economic efficiency set by China's central government.
CEO of thyssenkrupp Greater China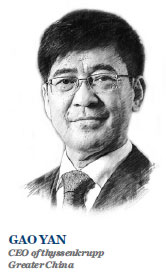 A1: Innovation will continue to be a driving force to realize sustainable and stable global growth. In an increasingly integrated global economy, innovation across traditional sectors and different nations is becoming more important.
Synergies between China and the other G20 members will drive the world economy.
At thyssenkrupp, Industry 4.0, sustainable mobility and resource-efficient processes are high on our innovation agenda.
With diverse technologies, we promote the synergies between various business areas in the group.
For example, the thyssenkrupp InCar plus project provides over 40 groundbreaking solutions that will make the cars of the future more lightweight, cost-competitive, green and high-performing.
A2: A significant international platform like the G20 is definitely an incubator of great opportunities for cooperation across borders. By enhancing conversations, collaboration on policy coherence can be strengthened.
The global business environment is becoming more complex, uncertain, and volatile.
The G20 summit will enlighten all of us on how to improve synergies in promoting common growth with respect among members. As President Xi Jinping put it, we should embrace a vision of a global community with a shared future.
The summit encourages across-the-board innovation in not only science and technology, but also in development concepts, business model and structural reform, which I'm very interested in. thyssenkrupp has over 155,000 employees in six business areas across nearly 80 countries, while China is one of the most important strategic markets for the group.
A3: China is one of the most influential economies in the world. The summit will be an economic bridge between China and the world. It provides China with an opportunity to increase its profile in global economic leadership.
It will give China more strength and support to further integrate into the world and push forward the reform and opening-up by carrying out the 13th Five-Year Plan and the Belt and Road Initiative.
It will also be a starting point for the G20 and the world economy to achieve the new vision of a global community with a shared future and create a new pattern of world economic growth, thus benefiting the entire international community.
A4: China's economy has entered a new normal. We are facing some new challenges, such as slower economic growth, lower investment in some industries, and rising labor costs. thyssenkrupp clearly understands the challenges come with opportunities not only for us, but also for other players in the market.
To tackle the challenges, we will follow market trends and focus our innovation and business development in some important sectors, such as resource-efficient and eco-friendly technology, urban mobility and smart manufacturing.
These are also some of the focal points of the 13th Five-Year Plan. China is one of the most important strategic markets for thyssenkrupp. We have invested over 500 million euros in China in the past five years and will expand investments in the future. We are fully confident in the China market.
President of Mondelez China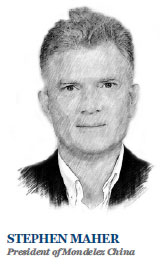 A1: I think interconnectivity will be a significant driving force. In today's globalized economy, connected organizations and regions can achieve coordinated development. Over the past 2,000 years, the world has grown larger for each countries' vision but smaller in connectivity. We believe that as we connect with each other we must help each other drive growth for mutual benefit and mutual respect. As Mondelez is the market leader in snacks, we have the responsibility to provide innovation to consumers and drive profitable and sustainable growth to our customers, our suppliers, our employees and our investors.
A2: We have two expectations. Middle-class growth and rural sector growth.
Our expectation for this year's summit is it will reinforce the recovery of the manufacturing industry, by further unlocking its growth potential and creating more opportunities, and create more room for the sustainable long-term development of the middle class, which is the engine for category growth and the foundation for social harmony.
We are particularly interested in the summit's focus on "innovation", since innovative business models, strategies and technologies can drive long-term growth. Innovation has proved to be an important factor in our success. We would like to see the summit provide a detailed plan on how to achieve thriving economies through innovation in various fields. The greatest opportunity is to leverage innovation to provide wealth in the towns and rural areas in China so the development and wealth of China will have a larger footprint.
A3: I think the G20 Hangzhou is no doubt a great opportunity to draw the world's attention to China and showcase China's leadership by facilitating a consensus to solve the global economic and development challenges. The summit will also bring China more opportunities to communicate with other countries, and to build more cooperation based on shared interests. China is one of the key drivers of growth for a majority of G20 members. As China has entered a new normal of relatively slower economic growth other countries may have anxieties. By holding the summit in Hangzhou, other economies will be able to see that China is still a growth market and that China is making decisions today that will benefit the world tomorrow.
A4: In terms of pressing challenges, retail environments that used to power our growth are now slowing and we are again facing headwinds as we try to reach more shoppers at the point of purchase. It is clear that for us to regain our momentum we will have to focus on driving our power brands very aggressively in the channels that are successful: e-commerce, convenience stores and small supermarkets and small stores. These retail environments are very different to those we used to focus on. It will take time to retrain our sales organization and our commercial teams, and adapt our marketing plans and our product portfolios, but we are moving fast.
Our plan comprises three key strategies: 1. Accelerating the growth of our core business, which is our global, iconic Power Brands; 2. Filling in consumer and geographic white spaces where we do not have a presence today; 3. Building our sales and route-to-market capabilities, including e-commerce. At the same time, we intend to become the global leader in well-being snacks, with 50 percent of our portfolio in the well-being space by 2020 - up from more than one-third today. We are simplifying the ingredients and enhancing the nutritional profile of our core products while also focusing on breakthrough innovations. Over the next five years, we expect to focus 70 percent of our new product development efforts on well-being snacks.