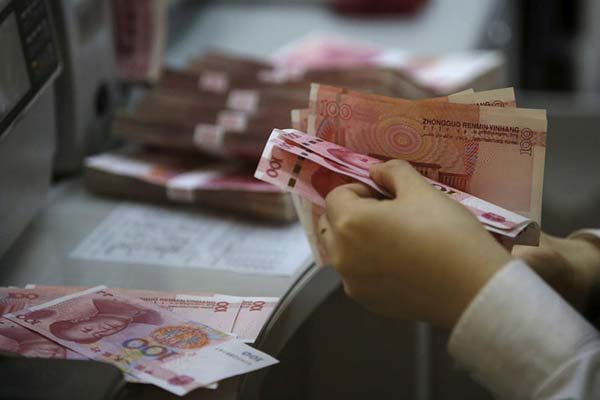 A clerk counts yuan banknotes at a bank in Beijing, April 13, 2016.[Photo/Agencies]
Chinese commercial banks stepped up the issuance of housing mortgages and will continue to do so in the second half of this year, due to relatively good asset quality and the high returns of housing mortgages.
Statistics from the People's Bank of China, the central bank, showed that renminbi-denominated loans increased by 463 billion yuan ($69 billion) in July. Most of the new loans were to households, which rose 457.5 billion yuan.
Several major commercial banks posted fast growth in housing mortgages in the first half of 2016, which accounted for more than half of the increase in their gross loans and advances to customers, according to the interim results announcement for the six months ended June 30.
Spurred by the central government's easing of housing mortgage policies, China Construction Bank Corp, the country's second-largest commercial lender by assets, witnessed a 14.7 percent growth of residential mortgage balance from the end of 2015 to 3.18 trillion yuan as of June 30. The growth accounted for 62.5 percent of the bank's new loans.
Wang Hongzhang, chairman of the CCB, said on Friday: "Our bank will continue to increase residential mortgages in the second half of this year and the following year. Next, we will play a more active role in revitalizing real estate by stepping up our contribution to the construction of supporting facilities, such as hospitals, schools and shopping malls, to reduce housing overcapacity."
The bank will also accelerate the development of the housing provident fund and provide housing mortgages to low-income groups at lower interest rates, he said.
Agricultural Bank of China Ltd, the country's third-largest commercial lender by assets, increased its housing mortgage balance by 311.03 billion yuan from the end of last year to 2.24 trillion yuan by the end of June.