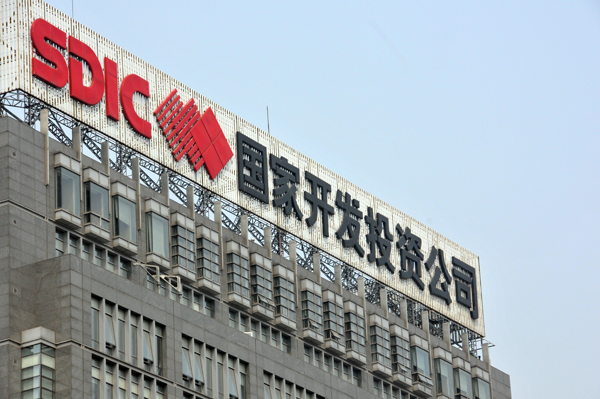 State Development & Investment Corp's headquarters in Beijing, April 29, 2015. [Photo / VCG]
Firm to cement its future in Southeast Asian nation with big investment over next 5 years
State Development & Investment Corp, the country's largest State-owned investment holding company by fund volume, will expand its investment categories from cement factories to nickel ore mines, power plants and ports in Indonesia over the next five years, said its senior executive on Monday.
With a total investment of 2.2 billion yuan ($329 million), SDIC invested and launched the production of the first phase of a cement plant in Indonesia's West Papua province last week.
After a 16 month construction period, the plant will be able to produce 1.5 million tons of cement annually to meet the country's surging demand for various infrastructure projects.
Li Bing, SDIC's vice-president, said the company will invest in the second phase of the cement plant after six months if the operation and sales could maintain a fast growth pace. This would add a further 1.5 million tons of annual cement production capacity to the project.
Anhui Conch Cement Co, China's largest cement maker by market value, is responsible for the design of the plants.
The project currently has 309 employees, including 173 Indonesian staff. It is part of SDIC's effort to get more opportunities from the Belt and Road Initiative.
Supported by more than 200 subsidiaries, SDIC has built a strong market presence in both developed and developing markets, in particular in the markets of the Association of Southeast Asian Nations in recent years.
"Restrained by weak industrial and logistics foundations in certain parts of Southeast Asia, many Indonesian and foreign construction contractors have to cope with local cement that costs too much and is often in short supply," said Li.
This makes it even harder to complete projects on time. Delays caused by substandard port and road facilities, and delayed shipments from Asia, the Middle East and Europe, make matters worse.
Tamba Hutapea, deputy chairman of Indonesia's Investment Coordinating Board, or BKPM, said this is the first cement project to be put into production in West Papua province. It will alter the current situation in which eastern Indonesia does not have a cement industry to support the country's industrialization and urbanization.
"It certainly is not cheap to ship cement to Indonesia or other parts of Southeast Asia from China, mainly due to container loading costs," said Sun Fuquan, a researcher at the Chinese Academy of Science and Technology for Development in Beijing.
"The cement must be properly packed and protected, otherwise it is easy to get wet and will become useless."
Sun said it appears Chinese companies have found a new growth area in Southeast Asia's cement and power industries. Less competition in this market also gives them an early advantage to secure a better position.