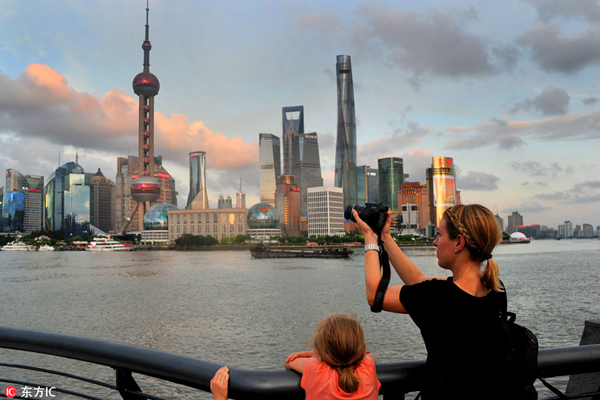 A woman takes photos of high buildings at the Bund in Shanghai, Aug 1, 2016. [Photho/IC]
Homebuyers in Shanghai rushed to buy about 5,300 apartments since Friday, after news media widely reported on Thursday that the city's policymakers would consider realty price curbs with tightened measures.
Apartment transactions in Shanghai surpassed 1,000 units for three consecutive days since Saturday. The average before Friday was between 400 and 600 per day.
On Monday, Shanghai housing authorities said they were not considering making changes to current credit policy. They said they had noticed an increase in transactions but that on the whole the city's housing market was stable.
Homebuyers, fearing stricter policies, flocked to transaction centers over the weekend. On Sunday, the online registration system for housing transactions crashed for half an hour due to overload.
Media had reported on Thursday that tightened measures might be launched by Sept 1, including increased interest rates for home loans and down payments being pushed to 50 percent from the current 30 percent.
The media reports followed a Bloomberg report, citing an unnamed source with inside knowledge, that said stricter measures were being considered.
Zhou Xiaoyu, a homebuyer in Shanghai's Xuhui district, said he wanted to improve housing conditions for his family after his second son was born a week ago. He said he bought an apartment on Sunday because he wanted to get a more spacious home and feared he might not be able to pay a 50 percent down payment, if the rumors proved true.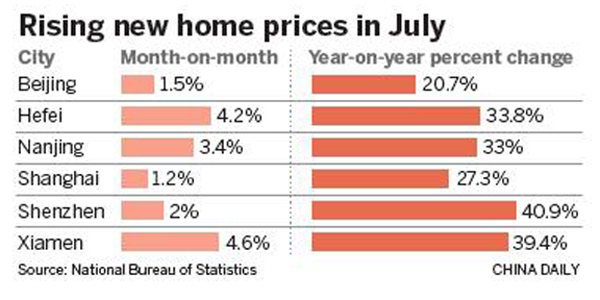 "I have been tracking Shanghai's housing prices since the end of last year," Zhou said. "The price is indeed rising quite fast, more than 20 percent year-on-year by late August. I am not sure if the rumor is true or stricter policies will be applied, so I just bought it now. What if the rumor is true and I miss the window and will no longer be able to buy it in the future?"
Meanwhile, Beijing and Tianjin are expected to adopt tightened measures to control rapidly increasing home prices, Bloomberg reported on Friday.
Analysts said controls on and adjustments of land and housing prices are expected in cities where housing prices are rising quickly.
However, Zhang Dawei, Centaline Property's chief analyst, said curbing price growth alone will not change the fundamental problem, which is the gap between supply and demand in top-tier cities and cities with rapidly growing populations.
A number of first- and second-tier markets, including Nanjing, Xiamen and Hefei, have launched stricter policies to curb rising land and housing prices.
More than 10 cities saw year-on-year new home price increases of more than 10 percent in July, among 70 cities monitored, according to the National Bureau of Statistics.
At the same time, accelerated destocking was behind recent home price increases and will continue to drive up prices in the third quarter of the year, said Yan Yuejin, an analyst with property research agency E-House China R&D Institute.