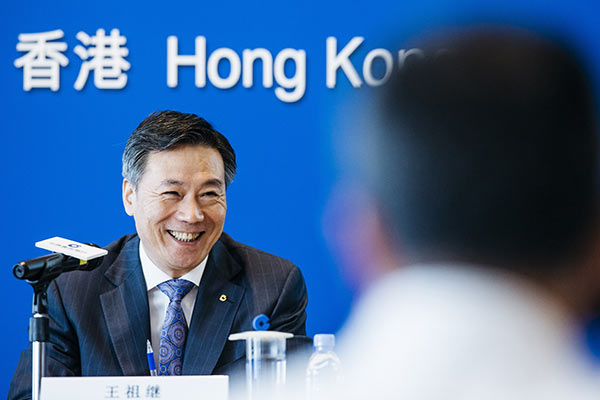 Wang Zuji, president of China Construction Bank Corp, reacts during a news conference in Hong Kong, China, on Friday, Aug 26, 2016.[Photo/VCG]
Chinese commercial banks made great efforts to optimize the structure of their income, assets and liabilities amid increasing pressure of a downward economy and shrinking net interest margins, according to the interim results of several major banks for the first half of 2016.
China Construction Bank Corp, the country's second largest commercial lender by assets, announced a nearly 10 percent drop in its interest income during the first six months of this year. By contrast, its net fee and commission income rose 5.6 percent and other types of non-interest income surged 140 percent.
The bank optimized its credit structure in an effort to deal with the fall in interest rates. Its chairman Wang Hongzhang said on Friday: "In regard of credit structure readjustment, we put great emphasis on large companies, projects and cities, including high-end clients."
Spurred by the central government's easing of housing mortgage policies, CCB led the banking sector with a 14.7 percent growth in residential mortgages from the end of 2015, rising to 3.18 trillion yuan ($480 million) as of June 30.
China CITIC Bank Corp Ltd, a national joint-stock commercial lender, also increased its residential mortgages by nearly 30 percent from the end of last year, in addition to a 23.5 percent growth in consumer loans.
Sun Deshun, president of the bank, said major companies and projects as well as high-end clients accounted for 85 percent of its corporate loans in the first half of this year.
By tightening risk control, the bank succeeded in lowering its NPL ratio by 3 basis points from the end of last year to 1.4 percent by end-June.