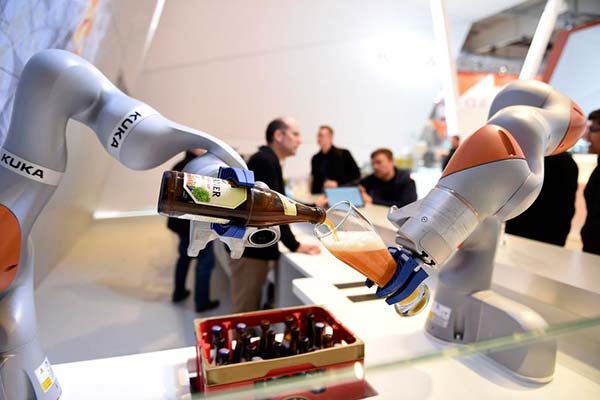 Robots in the Kuka stand pour a beer into a glass at the Hannover Messe industrial trade fair in Hanover, Germany April 23, 2016.[Photo/Agencies]
BERLIN - The German government said on Wednesday that it would not hinder China's home appliance manufacturer Midea from acquiring German robot maker Kuka, as the deal would not endanger Germany's security.
"Following an intensive review of Midea's acquisition of the majority of shares in KUKA AG, the Federal Ministry for Economic Affairs and Energy has decided not to launch a formal investigation under German foreign trade and payments legislation," said the ministry in an emailed statement.
"The review did not reveal any indication that public order or security in the Federal Republic of Germany would be compromised by the takeover by the Chinese company," it added.
Midea announced the acquisition bid on June 16, offering to pay 115 euros ($129.8) per share with a premium of nearly 60 percent. It said on August 8 that it held 94.55 percent stake in Kuka, up from the 13.5 percent stake it had before the bid.
To alleviate concerns over the takeover, Midea has pledged to maintain Kuka's independence, and has no plans to seek a domination agreement or delist the company. It will not change the headquarters nor reduce the workforce.