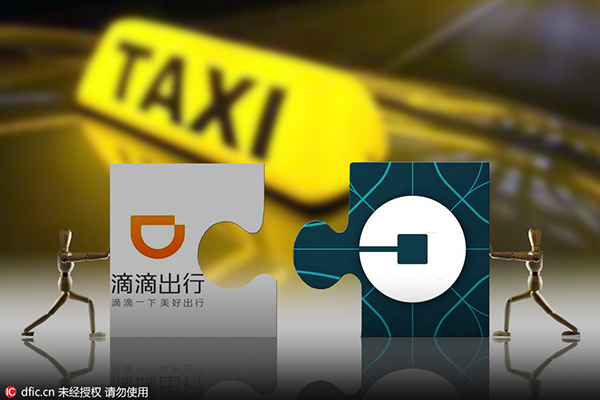 The mega merger between the top two ride-hailing service providers in China came into focus on Wednesday after the country's antitrust watchdog said it had a right to investigate the deal.
The Ministry of Commerce said at a news conference in Beijing that it was entitled to investigate whether the merger deal between Didi Chuxing and the China unit of the US-headquartered Uber Technologies Inc suggested a potential monopoly.
"Based on the regulations in China, business operators need to file an application on their merger deal if their revenues reach a certain amount," said Shen Danyang, spokesman for the ministry.
He did not say whether the authorities would mount an investigation, nor mention when a decision would be made.
Shen said that even if companies' revenues didn't reach the threshold, the ministry was still entitled to conduct a probe if there was evidence suggesting a potential monopoly.
The spokesman added that the ministry had not received an application from Didi or Uber on their merger deal.
The statement is the government's latest response to the deal between Didi and Uber.
Didi announced at the beginning of August its decision to acquire Uber's China operations, creating a ride-sharing titan estimated to take about 90 percent of the market.
According to antitrust regulations in China, companies that plan to merge need to file an application to the authorities if their combined revenue exceeded 2 billion yuan ($302 million) in the previous year.
Didi was not available to comment on Wednesday. But in early August, the Beijing-based company said in a statement that "neither Didi nor Uber China reached the revenue threshold to file the application".
However, Dong Yizhi, a lawyer at Liaoning Yatai Law Firm in Dalian, Liaoning province, said that it was the government's right to step up and launch an investigation even if the revenue of Didi and Uber China was not high enough to file an application.
Dong said that what was of interest was that the two companies were internet sector related.
Zhong Nan contributed to this story.