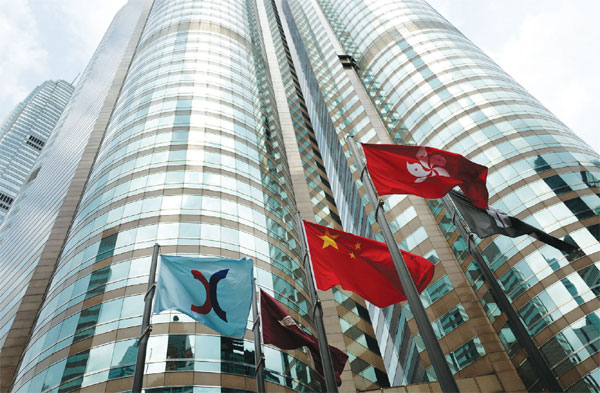 A view of Exchange Square in Central, Hong Kong. [File photo/China Daily]
Move opens up $6.6 trillion domestic share market to overseas investors
China has taken another major step toward opening its financial markets after approving a program that will allow investors in Hong Kong to trade equities on the Shenzhen Stock Exchange, analysts said on Wednesday.
By further opening its $6.6 trillion domestic share market to foreign traders, they said China was addressing limitations to mainland trading flagged by the global index compiler MSCI when it rejected the stocks in June.
"The Shenzhen-Hong Kong Stock Connect should move China further along the road to MSCI inclusion and we see this announcement as a significant catalyst for Chinese markets, particularly at a time where fundamental strength and industrial profitability are building," said Douglas Morton, head of research at Northern Trust Capital Markets Asia.
"I am sure the stock connect is an important component of MSCI," said Charles Li, chief executive officer of Hong Kong Exchanges & Clearing Ltd.
"Now it's actually happened, so that's among many things that incrementally will make the A-share market more and more accessible to international investors."
The long-anticipated Shenzhen-Hong Kong Stock Connect, which allows mainland investors to buy Hong Kong stocks and vice versa, had been expected for more than a year following a similar program between Shanghai and Hong Kong in 2014.
The China Securities Regulatory Commission on Tuesday night also lifted restrictions on asset flows, saying it wouldn't impose an aggregate quota for the Shenzhen link, and that it would remove the existing cap on the Shanghai program.
The daily limits for the stock connect will be the same as for Shanghai's, 13 billion yuan ($1.97 billion) for orders going north to the mainland and 10.5 billion yuan for southbound traffic.
"The removal of the overall quota marks the further opening up of China's capital account and I am surprised it came now," said Hong Hao, chief strategist at Bocom International Holdings Co.
Niu Huayong, dean of the Business School at Beijing Foreign Studies University, said the stock connect was positive as it was an institutional and long-term move to promote the development of Chinese capital market.
"The stock connect makes the financial markets of Hong Kong and mainland closer and it's also good for the Chinese government to accumulate experiences for further opening up the capital market," said Niu.
Investors buying into Shenzhen will have access to any stock in the Shenzhen Stock Exchange Component Index and Shenzhen Stock Exchange Small/Mid Cap Innovation Index that has a market value of no less than 6 billion yuan, according to Hong Kong's Securities and Futures Commission.
Any company that's dual listed in the city as well as Hong Kong will also be available, while buying shares traded on Shenzhen's ChiNext small-cap gauge will be limited to institutional investors at the initial stage of the stock connect.
There are more than 1,800 companies listed in Shenzhen, with a combined market capitalization of $3.2 trillion, compared with $3.4 trillion in Shanghai.
While the Shanghai exchange is mostly composed of large enterprises such as banks and oil firms, private tech firms dominate Shenzhen, which is 17.7 kilometers from Hong Kong.
The Shanghai Composite Index declined by 0.02 percent on Wednesday, closing at 3,109.6 points. The Shenzhen Component Index rose by 0.07 percent, while the ChiNext startup index edged higher by 0.32 percent.
Bloomberg contributed to this story.