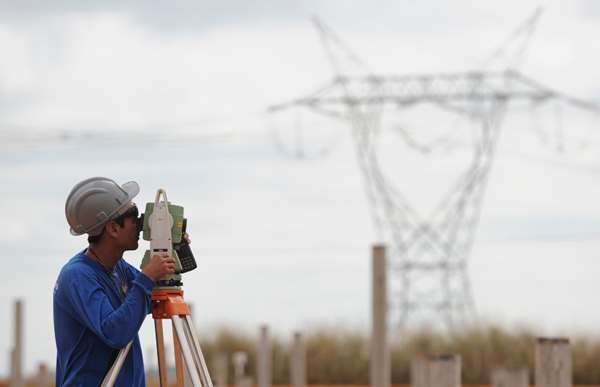 Workers of State Grid Brazil Holding SA at work at a transformer station in Rio de Janeiro, Brazil, July 25, 2013. [Photo/Xinhua]
State Grid Corp of China reached a deal to gain control of Brazil's CPFL Energia SA, after two major shareholders agreed to sell the Chinese company their stakes in the $7.3 billion utility, people with knowledge of the matter said.
Bonaire Participacoes and Banco do Brasil SA's pension fund, known as Previ, have given informal approval to sell their combined 44.5 percent stake in CPFL for 25 reals ($7.8) a share, the people said, asking not to be named because the information isn't public.
The terms are the same as those the Chinese company earlier offered when it agreed to buy Camargo Correa's stake in the power distributor in July, and the deal will likely be announced in a few weeks, according to one of the people.
State Grid is currently engaged in due diligence for the Camargo Correa deal, a process that will take two more weeks, according to a third person with knowledge of the matter. After that, State Grid will send a letter with a formal offer for CPFL's shareholders, who then have 30 days to respond.
The sale would increase State Grid's stake in CPFL to 68 percent. The Chinese company has to extend the offer to all holders, which would also include subsidiary CPFL Renovaveis, according to another person. The full deal could reach 50 billion reals including debt, the person said.