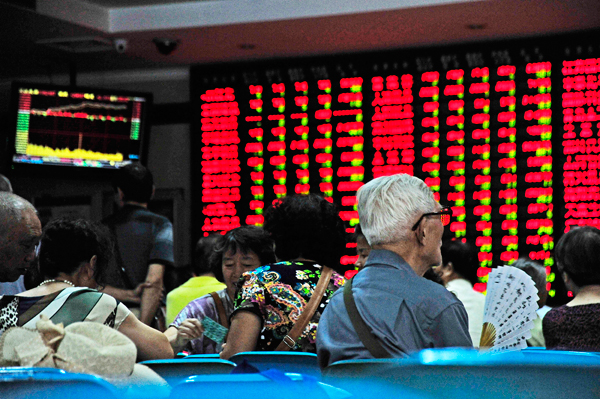 Investors follow stock information at a brokerage house in Nanjing, East China's Jiangsu province, August 15, 2016. [Photo/IC]
Chinese stocks climbed to a seven-month high on Monday amid optimism about the upcoming Shenzhen-Hong Kong Stock Connect and speculation about property merger and acquisition activity.
The Shanghai Composite Index surged by as much as 2.44 percent, closing at 3,125.2 points, led by financial companies and property developers. Nine real estate companies, including China Vanke Co, Langfang Development Co and Huafa Industrial Co, climbed by the daily limit as the top performers in the market.
The Shenzhen Component Index rose by 2.79 percent, while the ChiNext startup index climbed by 3.27 percent.
"The upcoming Shenzhen-Hong Kong Stock Connect might be the biggest news in the market, which explains today's strong performance," said Hong Hao, chief strategist at BOCOM International Holdings Co.
Hong said there are many technology companies listed in Shenzhen, and they will be attractive to investors in Hong Kong when the stock connect is launched.
The China Securities Regulatory Commission said on Friday that securities regulators of the Chinese mainland and Hong Kong are working closely with the Shenzhen Stock Exchange and Hong Kong Exchanges and Clearing Ltd for the launch of the long-anticipated stock connect program.
The stock connect is a cross-border investment program modeled after the Shanghai-Hong Kong Stock Connect, which was launched in November 2014 so mainland investors could buy Hong Kong stocks, and vice versa.
Meanwhile, Dong Dengxin, a finance professor at Wuhan University of Science and Technology, said the stock market climbed on Monday as China Evergrande Group fueled optimism that the pace of merger and acquisition activities in the property industry will accelerate.
Evergrande, which boosted its stake in Langfang to 15 percent in the past four months, plans to further increase its holdings and hasn't excluded the possibility of obtaining control of the company, Langfang said on August 10.
Evergrande bought a 5 percent stake in Vanke, the nation's largest residential developer, earlier this month.
Hong said the valuation of real estate companies such as Vanke and Langfang is comparatively low, so more mergers and acquisitions might be undertaken.
China stocks rallied on Monday as investors bet that disappointing economic data for July would prod Beijing to unleash fresh stimulus measures, Reuters said.
But Hong said the central government is unlikely to carry out stimulative measures, since the market was not short of money and Chinese leaders have pledged to curb asset bubbles.
Dong said the Shanghai Composite Index of 3,125.2 points was sensitive, as many investors who suffered from the stock slump last year would sell their shares at that level.