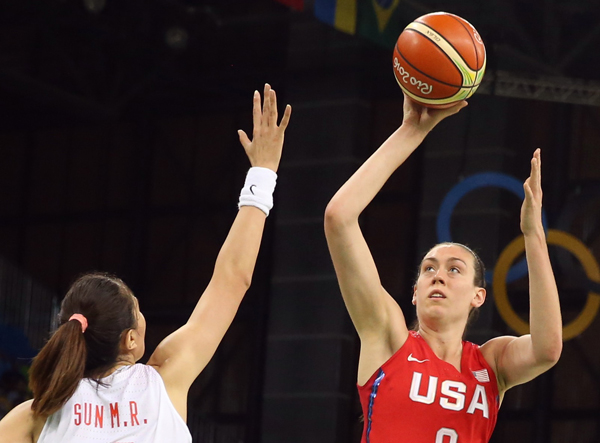 Sun Mengran, China, and Breanna Stewart, US, compete at a basketball game at the Rio Olympics. Shares of Nike had delivered strong Olympics performances until the past two Games. [PHOTO / AGENCIES]
Nike Inc has top billing among sports brands at the Rio Olympics, but a week into the Games, its stock is losing to adidas AG and Under Armour Inc.
The quadrennial global sports event exposes apparel brands worn by top athletes to hundreds of millions of viewers, but growing competition and higher costs may be reducing the benefits of major endorsement deals.
Since the Summer Olympics started, shares of official games sponsor Nike had gained 1.0 percent as of Friday. But rival stocks have dashed ahead, with Under Armour up almost 3 percent and adidas nearly 6 percent, after a strong quarterly report.
Neither adidas nor Under Armour are official Olympics sponsors. But Under Armour sponsors about 250 athletes, including US swimming legend Michael Phelps. Adidas supplies uniforms to teams including the United Kingdom and Germany, and it is releasing special-edition sneakers lined in bronze, silver and gold.
Shares of Nike, which also sponsors the US team, had delivered strong Summer Olympics performances until the past two Games.
The stock surged by a range of 4 percent to 19 percent during the six Summer Games from 1984 to 2004. But it fell almost 3 percent during the 2008 Olympics in Beijing and the same amount during the 2012 Games in London, according to Bespoke Investment Group.
"You have increased competition. Under Armour is a public company out there now competing for more sponsorships. It's more expensive for the companies involved," said Bespoke co-founder Paul Hickey.
Nike, feeling the heat from adidas, Under Armour and rivals in China, disappointed Wall Street with its most recent quarterly score card in late June.
While its shares have gained 6 percent since, they remain down 10 percent in 2016, making Nike the worst performer in the Dow Jones industrial average.
REUTERS