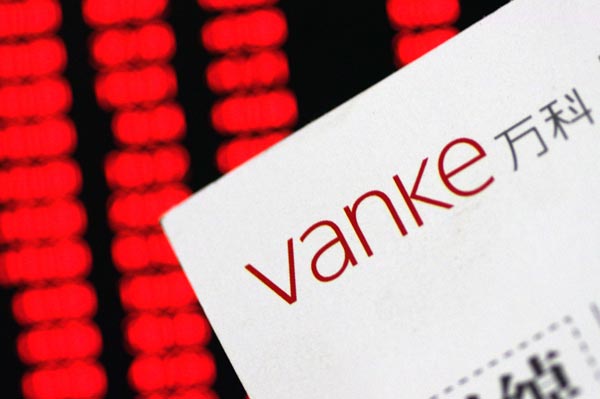 China Vanke Co's logo against the backrop of share information [Photo/VCG]
Sunac chairman denies reports firm bought a Vanke stake
China Vanke Co's shares continued to climb on Monday, although Chinese property developer Sunac China Holdings Ltd denied it had plans to invest in it.
In a regulatory filing on Monday, Vanke said Evergrande Group and its subsidaries have increased their stake in Vanke to 5 percent.
Vanke's A shares rose 4.39 percent to 21.87 yuan ($3.3) on Monday. Its shares surged 10 percent, their daily limit, on Thursday, and continued to increase 6.51 percent on Friday.
Sun Hongbin, chairman of Sunac, denied it had purchased Vanke stakes on Monday after a Chinese media reported that he invested about 1 billion yuan in Vanke and his shareholding ratio could be between 0.5 percent to 0.6 percent.
"Neither Sunac nor I purchased stakes in Vanke, and there's no reason or logic to this," said Sun.
Sun said in June that he would support Vanke's management team in China's most high-profile battle for corporate control between the embattled real estate developers' leadership and Baoneng Group, its largest shareholder.
Media reported on Thursday afternoon that Evergrande was largely purchasing A shares of Vanke.
On Monday, Vanke's A shares rose 4.39 percent to close at 21.87 yuan.
Evergrande released a statement on Thursday after the stock market closed, saying it has taken a 4.68 percent stake in Vanke worth more than 910 million yuan.
Evergrande cited Vanke's "strong" financial performance as China's largest developer as the reason for its investment.
Evergrande Chairman Hui Ka Yan may regard his firm's huge purchase of Vanke shares as a move to seek safe havens in assets, experts said.
"Good property assets can be wise investment choices because they can generate steady and pleasing returns and the risks are low," said Wang Guojun, a professor at the University of International Business and Economics in Beijing.
Wang said Chinese companies may have concerns over rising liquidity, and they consequently would seek safe havens in assets.
"Vanke is a good investment and Hui has proven to be a very shrewd businessman," said Hong Hao, chief strategist at BOCOM International Holdings Co.