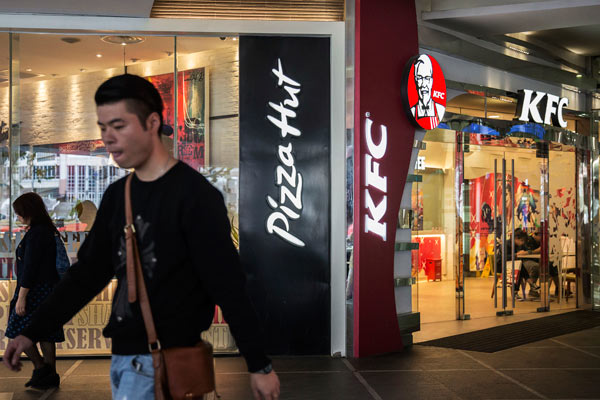 Pedestrians walk past Yum Brands Inc's Pizza Hut and KFC restaurants in Shanghai.[Photo/VCG]
The Chinese middle class is upgrading to products in the "affordable premium" segment, accounting for the popularity of chains like Starbucks, which is opening up about 500 stores a year in the country.
"The volume that Chinese are consuming is not growing rapidly, but they are trading up in terms of what they are buying, and we are seeing this not just in the first and second-tier cities but across lower-tier cities as well," said OC&C Strategy Consultant's Greater China partner Jack Chuang.
This trend is benefiting foreign consumer brands that have been positioned as premium from the beginning, like Danone's Evian mineral water brand, he said.
"Chains like Starbucks are walking into the right moment now in China," said Hao Yongqiang, vice-director of the China Chain Store and Franchise Association. "Just like ... how, long ago, everyone wanted to eat hamburgers."
Still, it is foreign brands that hold sway. For, the historical dominance of McDonald's and Yum's KFC and Pizza Hut in the Chinese fast-food industry has meant that there are almost no home-grown fast-food chains with enough experience and scale to run massive operations like them.
The popularity of KFC and McDonald's in China has stemmed from their novelty as Americana, not their low prices, said management professor Li Weihua of the China University of Political Science and Law. "Once the novelty factor wears off, there's nothing keeping consumers going there as local chains are cheaper and often more dynamic in meeting local tastes and preferences," he said.
James Roy, a senior analyst at China Market Research Group, said, "The problem with franchising in a developing country is how to control for quality. Not many players have the scale or depth that can take on the entire country's franchise rights. Dicos or Real Kungfu might also be waiting for the price to come down."
Yum China is providing high-quality food and continually "adapting menus to cater to the evolving preferences of Chinese consumers," said the company in an e-mail statement.
Yum's KFC chain in China performed better than the company expected in the second quarter, after a two-year slump sparked by a food-safety scare, bird flu outbreak and competition from local restaurants.
In an e-mail statement, McDonald's China said it is committed to providing healthier choices such as whole-wheat McMuffins and chicken cereal congee (porridge) to customers in China.
Bloomberg contributed to the story.