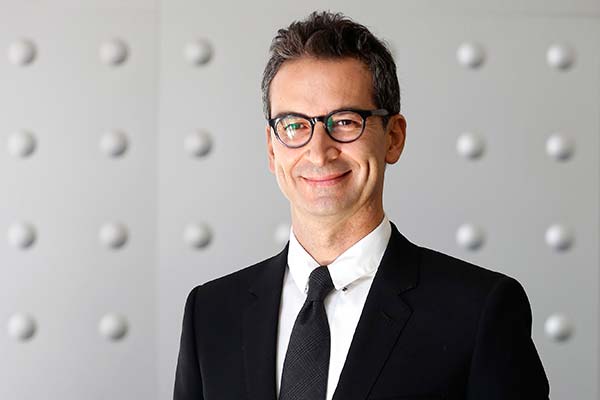 Federico Marchetti, the CEO of Yoox Net-a-Porter Group.[Photo/VCG]
The online luxury goods retailer is confident of achieving success in China's e-commerce scene
China's e-commerce market may have proven to be dismal hunting grounds for some of the world's largest luxury brands but Federico Marchetti, the CEO of Yoox Net-a-Porter Group, believes that the online retail empire he is building will not falter as others have.
"China has fantastic e-commerce companies. But we are in a segment where local Chinese companies are still struggling to get access to the luxury brands, mainly because the luxury brands are very protective about their image," said Marchetti who founded Yoox Group in Milan in 2000.
"YNAP has the best relationship with luxury goods in the world. That's why in China, we are adopting a long-term plan. I still see a lack of competition in selling luxury products at full price in China. Frankly speaking, I haven't seen or heard of any big players succeeding in that."
In December 2011, Coach became the first luxury and lifestyle brand to set up a store on Taobao.com, China's most visited and largest online shopping platform. But the store was closed after just a month. The official explanation given by the company was that the store was merely a part of a campaign celebrating the New York brand's 70th anniversary.
Less than three years later, Burberry opened its first flagship online boutique store on Chinese e-commerce platform Tmall.com, which is under the Alibaba Group. Reception was evidently underwhelming-there was just one review on the sales page of one of the brand's signature trench coats. The British company declined to comment about its foray into the e-commerce scene and has not revealed how its online sales are faring.
Marchetti is optimistic
Despite these examples, Marchetti believes that the trend of buying luxury products on the internet will soon begin.
"We are probably just at chapter two of a 10-chapter book. YNAP is the market leader in a fast-growing industry that is not experiencing any slowdown. In China, especially, we are even more at the beginning of the story, simply because young Chinese customers were not exposed to online luxury full price goods until 2010. We don't expect to reap immediate gains in China. We're here for the long term," said Marchetti.
Yoox merged with Net-a-Porter, which was established by former fashion journalist Natalie Massenet in 2015 and the deal was viewed as one of the most significant in the global fashion industry in the past decade. YNAP registered a growth rate of 38 percent in the Asia-Pacific region last year, with China being one of its fastest-growing markets in the world.
Big names
YNAP has already succeeded in attracting big names to its platforms. In May, Gucci introduced a 20-piece capsule collection that was exclusive to Net-a-Porter.com.
"Net-a-Porter has set the standard for online luxury fashion retailing, interpreting collections and bringing fashion to life in a uniquely engaging and compelling way. As a result, its clients are unquestionably some of the most knowledgeable and sophisticated in the marketplace," said Marco Bizzarri, Gucci's president and CEO.
Come in September, Yoox will upgrade its Chinese localized lifestyle store yoox.cn, which will focus on merchandise and content curated specially for Chinese customers.
"We see China also as an experiment and a school to learn something that we can export to the rest of the world, because the Chinese are definitely the most advanced and sophisticated in terms of mobile e-commerce," said Marchetti.
Marchetti noted that the competition in the retail world is no longer between offline and online businesses, but rather, between brands that can offer a synchronized online experience and those that cannot.
"It's not two different worlds. These days, online and offline businesses are converging into one. I think China is the only country that has a fantastic synergy between online and physical stores in this industry," said Marchetti.