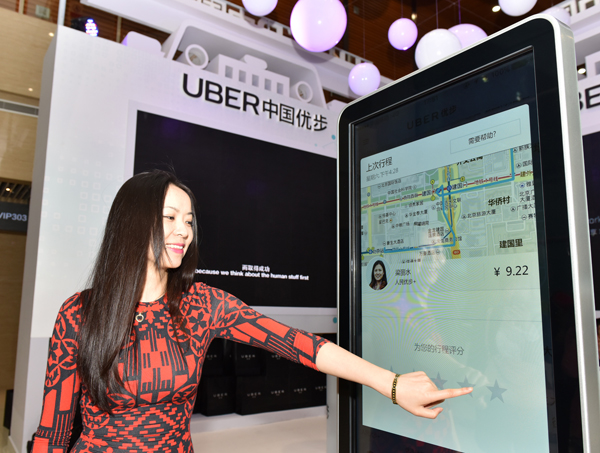 Fan Lin, general manager of Uber China's Xi'an operations, demonstrates how to use its app in Xi'an, Shaanxi province. Uber Technologies Inc will sell its China operations to rival Didi Chuxing. LI HUI/CHINA DAILY
Apple Inc's $1 billion investment in car-hailing app Didi Chuxing in May helped accelerate Uber Technologies Inc's decision to agree to a halt to a costly two-year battle with its rival in China, people close to the companies said.
Didi Chuxing Technology Co and Uber raised billions of dollars in funding and spent heavily on discounted rides.
Uber finally conceded this week, realizing it was no match for a cash-rich rival with the backing of three of the world's largest technology giants. It agreed to give up its independence in return for a nearly one-fifth stake in a bigger Didi.
Didi raised far more money than Uber China-making China the first market where Uber's strategy of outspending its chief competitor faltered, pushing it to surrender. Apple's support for the Chinese firm made it clear it would be difficult to beat Didi just through funding.
"The Apple investment is one of the factors that influenced the decision," said a person close to the companies, who couldn't be named because the discussions were private. "Both sides raised enormous amounts of capital. They were probably thinking this was going to escalate to nuclear warfare, which raised the question: do we really want to assure mutual destruction?"
Didi unveiled a $7.3 billion funding round in June from investors including Apple and China Life Insurance Co Ltd.
The deal may be subject to approval by antitrust regulators.
Reuters