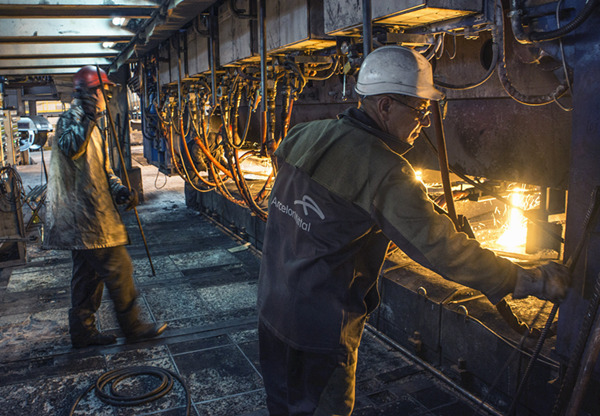 A steelworker operates machinery at the ArcelorMittal steel plant in Kryvyi Rih, Ukraine. [Photo/Agencies]
Indian multinational steel giant ArcelorMittal has transferred 1.1 billion yuan ($165.9 million) worth of shares in Hunan Valin Steel Co Ltd to a Chinese fund, citing Valin's main business shift from steel to finance.
ArcelorMittal signed an agreement with Shenzhen Qianhai Eagle Fund Management Co Ltd on Tuesday for the sale of its 304 million A shares.
The shares will be held by China Reform Fund managed by Shenzhen Qianhai Eagle Fund. The shares account for 10.08 percent of the total shares of Valin.
ArcelorMittal said that the sale of the shares is because of Valin's major asset reorganization, which will turn its main business from steel to finance and environmental management.
Valin Steel is a State-owned enterprise based in Hunan province that went public on the Shenzhen Stock Exchange in 1999.
The company announced its restructuring plan in July to replace some of its steel assets with financial and power generation assets. The steel assets have been removed from the listed company to the group company.
The restructured business of the listed company will cover securities, trust funds, insurance and energy-saving power generation. The new assets amount to 13.7 billion yuan.
Valin's stock was 3.95 yuan per share before the suspension in February.
Cao Huiquan, chairman of Valin, said in July that the restructuring aims to improve the profitability of the company.
"The steel industry faces the challenges of shedding capacity, lowering the cost, and cutting inventory.
The revenue and growth of Valin's steel business have touched the 'glass ceiling.' This situation is expected to last for several years," said Cao.
Valin suffered net losses of 2.96 billion yuan in 2015. Its net losses are estimated at 860 to 960 million yuan in the first half of this year.
According to Cao, the Party committee and government of Hunan province have been very supportive of the restructuring. The newly injected financial and energy-saving assets have been quite stable after the restructuring. They are expected to greatly improve the profitability of the company, which will benefit the market and the shareholders.