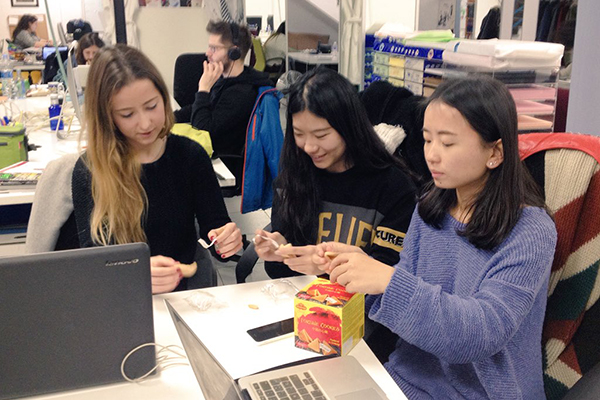 ChineSpain staff at their office in Madrid, Spain. ChineSpain, a tourism-related startup, has tied up with more than 350 local tourism providers across 22 cities in Spain. [Photo provided to China Daily]
Startups of young entrepreneurs from China are blazing a trail in the Spanish tourism market
The number of Chinese tourists to Spain is expected to surge from this year following the introduction of three new direct flights between the two countries and the inauguration of 12 new Spanish visa processing centers across China.
And a couple of Chinese entrepreneurs who have set up tourism-related startups in Spain expect to profit from the increasing inflow of their compatriots.
Last year, Spain welcomed 300,000 Chinese tourists, up 15 percent from 2014. The Spanish government has set an ambitious target of 1 million Chinese visitors a year by 2020, boosted by improved flight connections and a significant reduction in bureaucratic hurdles for visa applications.
It is as though Zhang Yiming foresaw the boom. In 2013, he went to Madrid to pursue a Master's degree, but ended up setting up a business in Spain's capital to make the most of the opportunities brought by the rising number of Chinese tourists.
Last year, he, Lorenzo Palomares and Antonella Rodogno co-founded ChineSpain, a firm that provides services to independent Chinese travelers to the Mediterranean country.
According to the China Tourism Academy, in 2014, around 70 percent of 100 million Chinese outbound tourists preferred independent travel to package group tours. This created a lucrative opportunity for independent travel agencies.
"Chinese tourists are now asking for better travel experiences. They want to understand other cultures in depth," said Zhang. "However, in most cases, unique local experiences are very difficult because of the language barrier."
So, ChineSpain tied up with more than 350 local tourism providers across 22 cities in Spain. It taught them how to serve Chinese travelers better by paying attention to their wishes and customs.
The firm receives a 15 percent commission from local tourism operators who choose to be part of its network.
The most sought-after services include 10-day routes across popular cities in Spain, featuring visits to vineyards and famous local restaurants.
For travelers seeking typical experiences, the company has developed special packages. Couples wanting to get married in Spain, and those interested in medical tourism, receive personalized travel arrangements.
In 10 months, the startup generated 50,000 euros ($55,000) in revenue. By 2018, it expects to reach its target of 3 million euros.
Like ChineSpain, Njoyspain Consulting is another Chinese-founded startup blazing a trail in Spain's domestic tourism market.
Liu Shaowei founded the self-funded travel consultancy last year. He was born in Zhejiang in East China, but spent most of his life in Spain. His parents had moved to the northern part of Spain in 1990 to work in a family business.
Again, like ChineSpain, Njoyspain Consulting advises tourism players in Spain on how to improve their services aimed at Chinese visitors. "I realized that small and medium-sized companies in Spain didn't have the economic resources to exploit the market spawned by Chinese travelers," said Liu.
Njoyspain now offers special adaptation packages for Spanish hospitality companies. Its offerings include services such as translation of food menus, information brochures, and education courses in Chinese language and etiquette.
The startup, which employs three people and has several partners in Spain and China, is growing fast. Thirty companies have signed up for its packages in Spain.
The firm is also securing contracts from Spanish town authorities to develop promotional marketing campaigns in Chinese social media.
Despite the increasing importance of Chinese travelers to Spain, local entrepeneurs are still reluctant to use Njoyspain's services, said Liu. "Our packages cost only a couple of hundred euros, but investors are still conservative towards this new market."
However, this attitude is gradually changing, thanks to the high sums of money Chinese visitors spend during their travels.
Consultancy Global Blue estimates that Chinese shoppers accounted for 31 percent in sales at duty-free outlets in Spain over the last 12 months.
"Taking into account the new flight connections, shopping spends by Chinese travelers in Spain will increase by up to 20 percent this year," said Luis Jose Llorca Lizaso, managing director for the Spain market at Global Blue, a consultancy.
Liu of Njoyspain said: "It has been very hard to get the business running because many Spanish entrepreneurs did not fully see the benefits of adapting their services to the Chinese tourists. However, the scene is changing quickly and we expect this year to be a turning point for this industry."