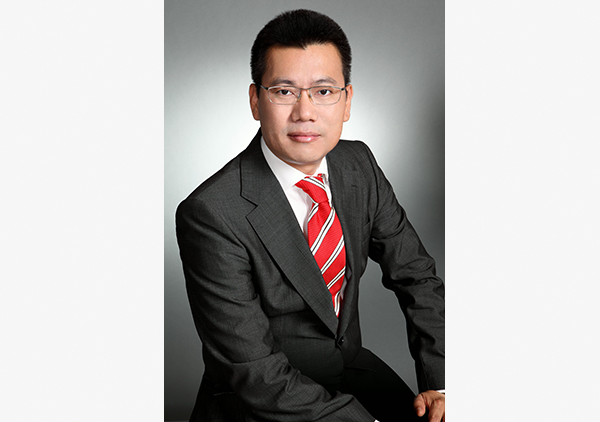 Guan Xiyou, president of Shenyang Machine Tool Co Ltd. [Photo provided to China Daily]
The 81-year-old Shenyang Machine Tool Co Ltd will probably be counted as a monument when you review China's industrial history.
Can a monument weather an economic downturn? Fat chance, if signs at a machine tools firm are any indication.
In a 750,000-square-meter industrial park in western Shenyang, capital of Liaoning province, the young workers are concentrating on debugging machine tools. Soon, these high-end smart machine tools bearing the logo of "SMTCL" (Shenyang Machine Tool Co Ltd) will be transported to different plants around China.
Most of them will head to plants in the south, where they will be used to improve efficiency of the latter's production lines.
The plants' owners there are becoming increasingly anxious due to lack of funds, backwardness of their technology and outflow of talent.
That has prompted the central government to look for ways to upgrade the manufacturing industry.
SMTCL, located in Northeast China's old industrial base, has already drawn much attention in this regard.
In the past year, the company upgraded its key products to intelligent integrated machine tools and created its machine tool leasing model. It aims to transform itself from a toolmaker to an industrial service provider.
"The key goal of the government's 'Made in China 2025' plan is to shift from a manufacturing-led economy to a service-oriented economy. SMTCL exemplifies the shift in focus," said Qu Xianming, an expert from the Chinese Machinery Industry Federation.
But everyone agrees the transition is not going to be easy.
SMTCL was famous as "the birthplace of Chinese machine tool". At that time, even graduates from famous universities were proud to land a job in the company.
Guan Xiyou, president of SMTCL, was one of them. When he graduated from Tongji University in Shanghai in 1988, he became a worker in the company, just like his father. "It was a glory time to be a worker in the company. It was even easier to find a girlfriend as a worker in the company."
However, with the development of market economy and China opening itself up to foreign investment and technologies, SMTCL entered a "black decade" (1993-2002).
A report by Lu Feng, professor at the School of Government, Peking University, said the number of employees decreased from 27,000 to 11,000 without any new employee joining during the decade.
In 2003, the central government launched efforts to revitalize the Northeast's old industrial bases. The strategy helped usher in the "golden decade" (2003-13) in Northeast China, particularly for the machine tool industry.
In 2011, SMTCL's sales revenue reached 18 billion yuan ($2.7 billion) with an annual output of 105,000 machine tools. Since then, the company's revenue topped the industry worldwide for three consecutive years.
"There were numerous orders at that time. About 80 percent of engineers were also involved in sales support. The trucks always blocked roads near our company. All these forced us to expand production capacity," said Li Wenhua, deputy party secretary of SMTCL.
However, unbridled expansion plunged the tool maker, which was famous for its precision technology, into a vicious circle. "The products were losing their competitive edge due to lack of numerical control technology. Most of our products were mid- and low-end products with little profit," Li said.
Thus, developing high-end products was the only way for the toolmaker's survival.
The i5 series smart machine tool became a straw to clutch. SMTCL developed the i5 smart numerical control system in 2007 by investing 1.15 billion yuan.
The long R&D process tested Guan's patience. "At that time, the tag of 'loss-making State-owned asset' was hanging like a millstone around my neck. There was even a temptation to show fake results. No one can understand what we through."
One night in 2012, Guan, feeling depressed and defeated, stood on the roof of a hotel in Germany and pondered for hours the fact that there has been no progress towards new products despite intensive R&D. "I almost jumped off the building."
Now, that memory seems distant. The success of i5 rewrote the company's history.
The i5 launched in late 2012. It broke the monopoly of companies such as Siemens and Fanuc over machine tool motion control systems, and demonstrated that numerical controlled machine tools could have a "Chinese brain". It is capable of intelligent programming, graphic diagnosis and simulation, and online analysis.
Zhu Sendi, a consultant with the China Machinery Industry Federation, said: "The i5 series has introduced a new dimension in machine tool manufacturing. It has made toolmaking an internet-based technology. That's smart innovation."
Guan said: "i5 has proved to be a game-changer. Customers don't have to buy a machine tool outright. They can rent one or more of them. That way, they could stay asset-light, which is what many small companies try to be these days."
Some 80 percent of i5 users, all Shenyang Machine Tool's clients in the Pearl River Delta area, rent the machinery at an average cost of about 10 yuan per hour.
Guan said: "From being a traditional manufacturer, Shenyang Machine Tool is transforming itself into an industrial service provider."
Zhu agreed. "It's a creative transition from selling tools to selling services. However, not every factory in China can organize production along those lines now. If most of the users accept this new way of production, it would be a revolution for the industry."
The company's new business model is marked by leasing of machine toolmakers and its smart factories.
In 2014, it established its own leasing firm to provide intelligent machine tools for use by medium and small companies, allowing the latter to pay for the service by either the duration of the use or output.
"This model provides a reference for SMEs' transformation and upgradation. This is also valuable for Made in China 2025. Considering China's slowing economy and the absence of a linking thread to connect scientific research, worker quality and enterprise development, the first step toward upgrading China's manufacturing industry may be improving production efficiency, product quality, and automation level," Zhu said.
That's not only a chance for Guan and Shenyang Machine Tool but the nation's manufacturing industry.