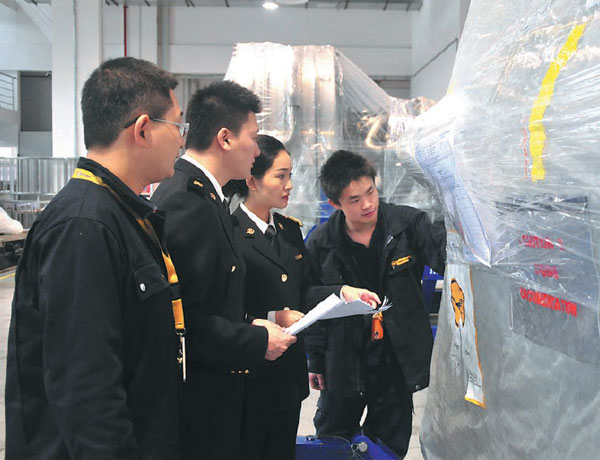 Customs authorities in Shenzhen inspect products at a factory. [Photo provided to China Daily]
BEIJING - China on Friday unveiled a decision to amend regulations on customs inspections in response to greater need for convenient customs clearance.
The amendment includes measures to facilitate inspections, optimize inspection procedures and punish violations, according to the decision by the State Council posted on the official website of the Chinese government.
Customs inspections are intended to supervise the authenticity and legitimacy of exports and imports after customs clearance. China first unveiled regulations on customs inspections in 1997.
The amendment showed that customs authorities have the right to collect goods from industry associations, government organs and companies, as well as information on foreign trade activities from associations.
Authorities can set the focus of an inspection based on a company's credit and risk level. The amendment raised the penalty amount for violations discovered during the inspection.
The decision also restricted the conditions of inspection without prior notice to certain emergency situations, such as highly suspicious targets, and when goods and related documents could be transferred, hidden or destroyed.
The amendment will become effective on Oct 1, 2016.