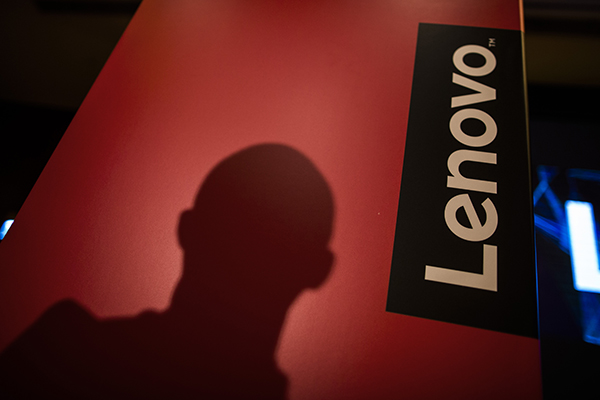 The shadow of an attendee sits on a podium wall during a Lenovo Group Ltd news conference in Hong Kong, China, May 26, 2016. [Photo/VCG]
A Chinese multinational computer hardware and electronics company has launched an accelerator program in Hong Kong, aiming to provide finance, technology and human resources support for start-ups.
The Lenovo Capital & Incubator Group, a subsidiary of Lenovo Group Limited, will provide between 500,000 ($76,000) and 1 million yuan to each selected program.
The first phase of the program will focus on technology-driven start-ups in artificial intelligence, big data and robotics, according to George He, president of the Lenovo Capital & Incubator Group.
"Based on Lenovo's global technology and market resources, we are aiming to develop a nationwide professional technology accelerator to help nurture start-ups with promising market potentials in the near future," He said.
Programs will also be provided free workspace at the Hong Kong Cyberport, for three months.
"Early-stage tech start-ups and teams are able to directly contact with global investors and work with field experts, as well as receiving one-to-one mentoring services," He said.
Cindy Liang, general manager of Lenovo Accelerator, said technologies in artificial intelligence, big data and robotics would be of fundamental significance for products in the next five years.
According to Liang, the accelerator program will focus on early-stage entrepreneurs in higher education authorities in Hong Kong and the neighboring Guangdong province.
"We will work closely with universities to develop technology start-ups and teams," Liang said.
A group of universities, including the University of Hong Kong, the Chinese University of Hong Kong, Hong Kong University of Science and Technology, Harbin Institute of Technology and the Shenzhen University have reached cooperative agreements with the program.
"We hope the technology start-ups will become a powerhouse to drive the economic development and help upgrade industries between the Chinese mainland and Hong Kong," Liang said.