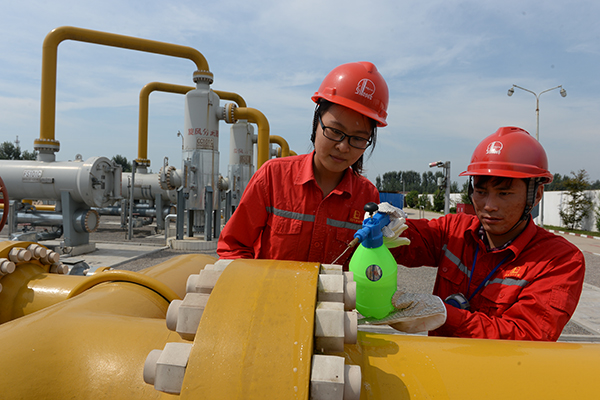 Sinopec employees inspect natural gas pipelines in Zibo, Shandong province. [Photo/CFP]
MOSCOW - Russia's largest gas processing and petrochemical company Sibur has hailed its cooperation with China's top oil refiner Sinopec.
Dmitry Konov, chairman of Sibur's Management Board, said the experience of running a joint venture with Sinopec in the Siberian city of Krasnoyarsk has been successful.
"The feedback from our Chinese colleagues has helped navigating the plant by (knowing) the current needs of Asian consumers so as to produce exactly what our partners want," Konov said in an interview with Xinhua on Tuesday.
Sinopec and Sibur established a nitrile butadiene rubber (NBR) joint venture in Russia's Krasnoyarsk in 2013, in which Sinopec holds 25 percent plus one share.
The NBR is widely used in the automotive and aeronautical industry to make various fuel and oil handling hoses, tanks and other components, where ordinary rubber can't be used.
The creation of the joint venture has led to a significant increase in NBR exports to China in the past few years, Konov said, adding that in 2015 the sales of NBR rubber in China increased by 17 percent from the previous year.
According to Konov, the two companies are deepening cooperation as Sinopec acquired 10 percent share of Sibur in December and another NBR joint venture will be built in Shanghai.
Konov added that Sibur was also discussing with potential partners including Sinopec about building a gas processing plant in Amur region in Russia's Far East, which will use Russian gas from fields in Eastern Siberia.
As Asia is becoming a major consumer of petrochemical products, Konov expects that Russian petrochemical exports to China would increase alongside rising energy supplies.
He recalled a number of energy cooperation projects with China supported by the leadership of both countries, including the East-Route Gas Project between Russian gas giant Gazprom and China National Petroleum Corp (CNPC), the Eastern Siberia - Pacific Ocean (ESPO) oil pipeline and among others.
CNPC and Gazprom signed a deal for the East-Route Gas Project on May 21, 2014. The 30-year contract will see the east-route pipeline begin providing China with 38 billion cubic meters of natural gas annually from 2018.
Under the bilateral agreement, Russia will export 70 billion cubic meters of natural gas to China every year upon completion of both the east- and west-route gas pipelines.
"Gas is one of the raw materials in the production of petrochemical products, so increasing exports to China may bring additional revenue to the petrochemical industry," Konov said.
In the ESPO project, an oil pipeline linking Russia's Far East and northeast China was launched on Jan. 1, 2011. It is a branch of Russia's 4000-km-long East Siberia to Pacific Ocean Pipeline which runs from Taishet in Eastern Siberia to the Pacific port of Kozmino.