Energy giant Sinopec Group is continuing to fuel people's thirst for water, after providing 10,000 cases of Dolma Spring-branded spring water to an international athletics meeting held in Beijing last month.
The move was the latest by the company, after Sinopec EasyJoy Sales Co - the largest Chinese convenience store company, and a wholly owned Sinopec subsidiary - became an official supplier to the IAAF World Athletics Championships last year, hosted in the capital city.
As part of the agreement, Dolma Spring and StarEnergy were the official water and energy drinks, respectively.
EasyJoy was set up in 2014 to focus on non-oil-retailing businesses, and auto services. The move was prompted by the government's mixed-ownership reform of State-owned enterprises, and the group has opened 23,000 chain stores under the EasyJoy brand.
The company currently owns 30,000 gas stations in the country, and they sell the water brand in cooperation with the Tibetan company, Tibet Highland Natural Water Ltd.
During the World Championships alone, it sold bottled water with a total revenue of 13 million yuan, and officials said EasyJoy generated 370 million yuan of water sales in 2015, a 383 percent year-on-year rise on 2014, but still a drop in the ocean compared with Sinopec's 2 trillion yuan total revenue.
Li Hong, deputy general manager of the Sinopec subsidiary, said it is playing an increasingly important part in the group's overall social responsibility program.
"Sinopec started the water unit with the aim of providing healthy water at the best possible price for the public," he added.
Compared with other brands of water, which can cost as much as 14 yuan a bottle, Sinopec sells the brand at just 2 yuan.
Its contents come from Tolung Dechen county in the Tibet autonomous region, with its production facilities at an altitude of 3,700 meters.
Sinopec bought a 40 percent stake in Tibet Highland Natural Water in October 2014, becoming the biggest shareholder in the water producer.
Sinopec donates 0.3 yuan to primary schools in Tibet for each bottle sold, and last year, after Tibet suffered a huge earthquake in April, Sinopec delivered 480,000 bottles of water to the area.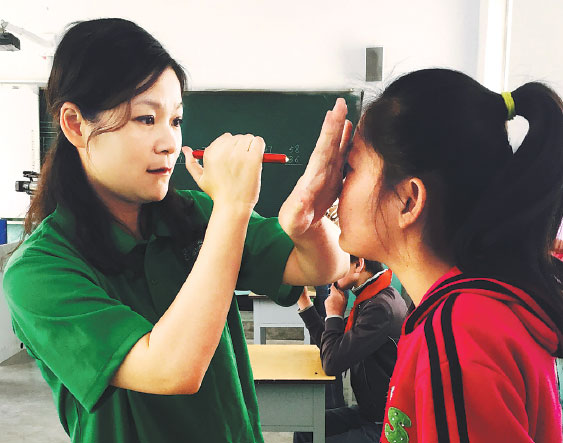 A student at a rural primary school in suburban Taiyuan, Shanxi province, receives eye disease screening from a volunteer of "Seeing is Believing", a global initiative to tackle avoidable blindness launched by Standard Chartered Plc. Provided To China Daily