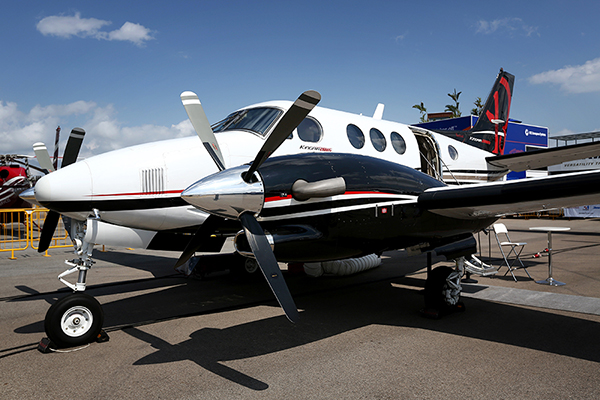 A Beechcraft King Air C90GTx aircraft manufactured by Textron Aviation Inc, stands on display at the Singapore Airshow held at the Changi Exhibition Centre in Singapore, Feb 16, 2016. [Photo/CFP]
China's demand for versatile utility aircraft capable of freight transportation will increase dramatically in the near future as the country invests huge money in infrastructure development in its remote regions, according to a leading industry executive.
"There is a greater demand than ever before for freight transportation in China, following the country's focus on developing economic belts and expanding infrastructure across rural areas," said Bill Schultz, senior vice-president for business development in China of Textron Aviation Inc.
Textron, a leading US general aviation business whose product line includes the iconic Beechcraft, Cessna and Hawker brands, aims to boost its mainland presence to fulfill the increased demand in China, as more local customers have been turning to its portfolio of turboprop aircraft, according to Schultz.
"Small cargo aircraft are essential for connecting to main air cargo centers and to facilitate the rapid transportation of mission critical items such as food, documents, pharmaceuticals and medical equipment," he said.
Textron, along with its Chinese joint venture, Cessna-AVIC Aircraft (Shijiazhuang) Co Ltd, held a conference in Guangzhou, the capital of Guangdong province, last week to explore the future development of air cargo in China.
"We hope to reach out to the aviation, transport and delivery industries to address how leaders in these industries can serve the needs of the growing and changing air cargo market in China," said Schultz.
The company has already seen a fast growth in the Chinese market, with deliveries of the Cessna Caravan single-engine utility turboprops having increased nearly 80 percent in the country after establishment of the Shijiazhuang facility three years ago.
In 2015, the company delivered 20 Caravan aircraft in China, which sparked a new segment in the country's aviation market by giving operators greater access to remote locations, according to Schultz.
Textron has two joint ventures in China-one in Shijiazhuang in Hebei province and the other in Zhuhai in Guangdong, focusing on development of various types of aircraft.
Its Shijiazhuang facility, a joint venture between Cessna Aircraft Co and China Aviation Industry General Aircraft Co, began delivering cargo aircraft in December 2013, while the Cessna-AVIC Zhuhai base focuses on development of private jets and turboprop airplanes.
"Each of the two ventures supports different industries, allowing us to cover the overall increased general aviation market," he said.
There are currently 253 private jets running in China, with the number forecast to grow sevenfold from 2012 to 2032, according to company estimates.
Schultz said the company wants to expand its cooperation with Chinese counterparts in the future, as the country has outlined an ambitious plan to build more than 500 general aviation airports by 2020.
"We will expand our cooperation as the market grows. There might be more joint ventures to come in the next three to five years," he said.