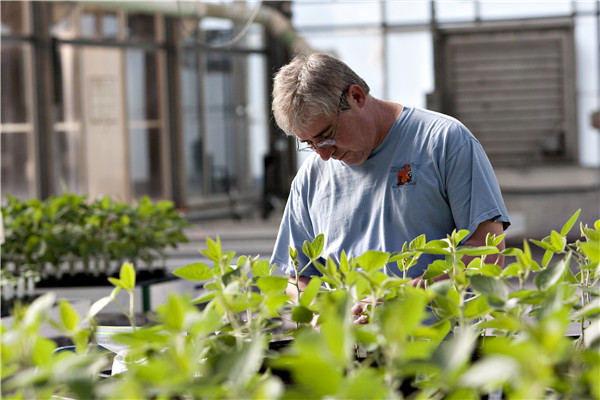 A researcher collects leaf samples from soybean plants in a greenhouse at the Monsanto Chesterfield Village facility in Chesterfield, Missouri, United States.[Photo/Agencies]
German group moves to create world giant supplier in farm chemicals and seeds
Bayer AG said on Monday it has made an unsolicited $62 billion all-cash offer to acquire Monsanto Co and create the world's biggest supplier of farm chemicals and genetically modified seeds. It disclosed the terms of its bid amid investors' growing concern that it might overpay.
Bayer offered $122 per share in an all-cash bid in its May 10 written proposal, the Leverkusen-based company said in a statement on Monday. That's a 37 percent premium to Monsanto's May 9 closing price. The payment would be funded with a combination of debt and equity, with about 25 percent of the enterprise value coming from selling shares to existing investors. Shares of Bayer dropped to its lowest in more than 2 1/2 years.
The proposal gives investors insights into Chief Executive Officer Werner Baumann's style and ambitions as he attempts to pull off the biggest corporate takeover ever by a German company after less than a month at the helm. Buying St. Louis-based Monsanto would give Bayer the world's largest seed supplier and a pioneer of crop biotechnology. The kind of genetically modified seeds that Monsanto started to sell two decades ago now account for the majority of corn and soybeans grown in the US.
The two companies are engaged in "constructive discussions", the CEO said.
Bayer's stock had plunged by the most in seven years when it confirmed having made an offer, without disclosing the financial details, on Thursday. Monsanto hasn't responded to the offer publicly, beyond saying that it was reviewing the terms.
"What we saw last week was an uneducated reaction in the media and the press because we did not communicate the details of our proposal," Baumann said on a conference call on Monday. "We are utterly convinced of the rationale of the proposal."
The deal will add to core earnings per share by a mid-single-digit percentage in the first full year after completion, and a double-digit percentage thereafter, Bayer said. The German company also expects earnings to be bolstered by savings of about $1.5 billion from the fourth year following the deal.
The offer marks a reversal of roles for Monsanto. The company previously sought to buy Swiss pesticide maker Syngenta AG, but had to abandon the $43.7 billion bid in August after the other company refused to agree to a deal.
The crop and seed industry is being reshaped by a series of large transactions. China National Chemical Corp agreed in February to acquire Syngenta for about $43 billion, months after Monsanto abandoned its own bid. Meanwhile DuPont Co and Dow Chemical Co plan to merge and then carve out a new crop-science unit.