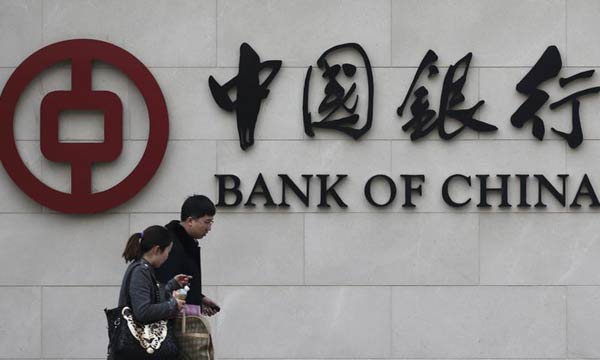 Pedestrians walk past a Bank of China sign at its branch in Beijing, March 26, 2013. [Photo/Agencies]
Lender looks forward to growing and deeper financial cooperation, signs agreements
Bank of China Ltd, the nation's fourth largest lender by assets, is stepping up its exploration of ways to strengthen financial cooperation across the Taiwan Straits by making use of the favorable policies of the China (Fujian) Pilot Free Trade Zone.
The BOC Fujian branch has signed cooperation agreements with three Taiwan banks that have their own branch in Fuzhou, capital of Fujian province, right before the Fujian FTZ was established for a year.
Yang Zhanpeng, general manager of the BOC Fujian branch, said: "We look forward to deepening cooperation with our Taiwan counterparts in such areas as interbank lending and overseas loans, with the aim of providing better services to a wider range of Taiwan companies that have expanded their business to the Chinese mainland. We also hope that Taiwan banks will give support to local companies in Fujian."
The People's Bank of China, the central bank, announced in April it will loosen control on overseas financing for Chinese companies that have one of their subsidiaries registered in the Fujian FTZ.
Taiwan banks with their own branch in Fujian are seeing opportunities in foreign currency financing for these companies.
Huang Jheng-Hua, vice president and general manager of Hua Nan Commercial Bank Ltd, Fuzhou branch, said the cost of borrowing in US dollars in Taiwan is 0.5 to 1 percentage point lower than that in the Chinese mainland.
"We are hoping that Bank of China will introduce us to some high-end corporate clients who will make investments and acquisitions in Taiwan," he said.
In the meantime, Hua Nan Commercial Bank is working with the BOC on how to guide high-end individual clients in the Chinese mainland to make overseas direct investment and acquisitions, as the mainland further relaxes control over cross-border investment for individuals who work or live in the Fujian FTZ.
Wang Xiao, deputy general manager of the BOC Fujian branch, said the bank provides a renminbi payment and clearing service to four Taiwan banks that opened their own branch in Fujian. The volume of renminbi payment and clearing for them via the BOC Fujian branch reached 3.9 billion yuan ($598 million) by the end of March.
The BOC also opened up a channel for two-way lending between commercial lenders in the Chinese mainland and Taiwan. It provides funds for Taiwan-based Chang Hwa Bank, at the same time as the BOC Taipei branch provides funds to its Pingtan branch in Fujian.
As the only commercial lender authorized by the central bank to transport renminbi cash to commercial lenders in Taiwan, the BOC had delivered renminbi cash worth 7 billion yuan across the Taiwan Straits by the end of March. It set up a money exchange in Pingtan Area of the China (Fujian) Pilot Free Trade Zone, offering a currency exchange service between the renminbi and the new Taiwan dollar for individual clients.
The bank also joined hands with several other banks in providing 250 million yuan through cross-border financing to companies with a subsidiary registered in Pingtan Area of the Fujian FTZ.