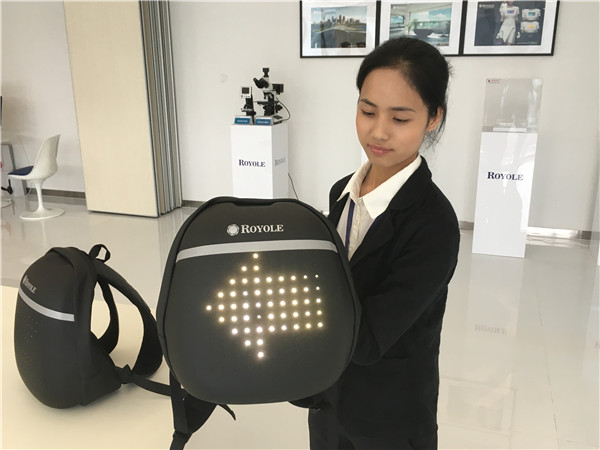 A staff member illustrates a smart backpack that uses flexible sensors developed by Royole Corp. WANG ZHENGHUA/CHINA DAILY
Shenzhen-based Royole Corp made a splash during its first appearance at the Consumer Electronics Show in Las Vegas in January.
It demonstrated a thin, rollable and transparent keyboard that is concealed within a speaker and charging station when not in use. The keyboard can be pulled out for heavy-duty typing on smartphones. Another star was a sleek, smooth and curved electronics-enabled car dashboard free of buttons.
Bill Liu, 33, founder of Royole Corp, believes his ultra-thin, transparent and flexible electronics, including displays and sensors, will help reshape the future of smart home, automotive, consumer electronics and wearable products.
The four-year-old company has completed four rounds of financing from investors including IDG Capital Partners and is valued at more than $1 billion.
Royole was one of the 1,300 Chinese technology vendors that stole the limelight at the CES, which is regarded as a weather vane for the consumer electronics industry. More than half of the Chinese companies at the show were from Shenzhen, which borders Hong Kong and has been the mainland's technology startup hub and largest electronics manufacturing base.
The stand-out product of Royole, however, is the world's thinnest full-color flexible display that was unveiled in July 2014. The display can be easily bended or rolled. The thickness of the display is only about 0.01mm, which is as thin as an onion skin or less than one fifth the diameter of the human hair.
Entrepreneur Liu, a Stanford graduate, founded the technology startup in 2012 to realize his simple wish of his early days as a university student: having a phone with large screen that can be folded to fit in a pocket.
"Smartphones that bend and fold may sound futuristic. With a flexible screen, you may fold it when you want to use it as a phone and open it to a flat screen when it is in tablet mode," he said.