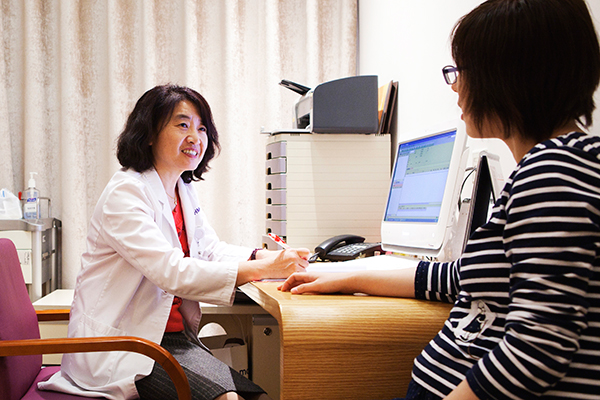 A doctor talks with a pregnant woman at a hospital owned by Harnomicare Medical in Beijing. [Photo/CFP]
Bourse sees erratic trading in the wake of student's death after receiving treatment
Hong Kong-listed private hospitals owned by businesspeople from Putian, in eastern Fujian province, have seen their shares fluctuate or suspended over the past three days, after concerns were raised over their safety standards.
A college student from Shaanxi province died of cancer on April 13 after receiving treatment in a hospital in Beijing, which he found by searching on Baidu, China's largest search engine.
It was revealed he was treated by people hired by an investment company based in Putian to subcontract the Beijing military clinic involved.
As a result of the incident, market experts said short-term sentiment might continue to be affected.
But in the longer term it might actually help force regulators, operators and investors to strengthen safety and quality controls over the sector.
Shares in Hua Xia Healthcare Holdings Ltd, Wan Jia Group Co Ltd and Harmonicare Medical Holding Co Ltd were all hit.
The three are owned by Putian businesspeople who come from the same town as the owner of the Beijing facility connected to the death.
Individual investors said they were concerned the companies may be linked to the Beijing site, with some suggesting share prices will suffer further if the firms fall under formal investigation.
On Tuesday, Hua Xia group denied the Beijing hospital was affiliated, related to or managed by Hua Xia.
Despite that statement, its share price slumped 16 percent on Tuesday, when the news of the incident first circulated.
Harmonicare's shares also slumped 6 percent in value the same day, while shares in Wan Jia were suspended.
Health-driven sectors, including healthcare services, medical devices and pharmaceuticals, are currently popular with Chinese investors, both retail and institutional.
Latest research on the domestic private equity market by Bain & Co rated the medical sector among the hottest fields alongside financial technology, entertainment and internet technologies, with deal sizes in the sector also growing.
Experts said that the relation, between investment capital and the healthcare sector needs to be clarified.
Shi Guomin, a senior expert in the PE sector who used to be executive manager of the healthcare investment fund at Beijing-based PE firm HG Capital, said investors have been spooked by the incident, with some scared off potential investment targets and deals as a result.
But in the longer run, he said, it could prove positive for China's private healthcare and medical industry as a whole, as it might act as a timely reminder that safety and quality controls remain paramount.
"China has seen a second wave of PE and VC investment in the healthcare industry and it is maybe time for us to take a step back and review the situation," said Shi.
"In the long run, potential investment opportunities in the private healthcare sector remain huge, and with greater public scrutiny and stricter government regulation, the good private hospitals will be more competitive and the bad ones eventually eliminated."