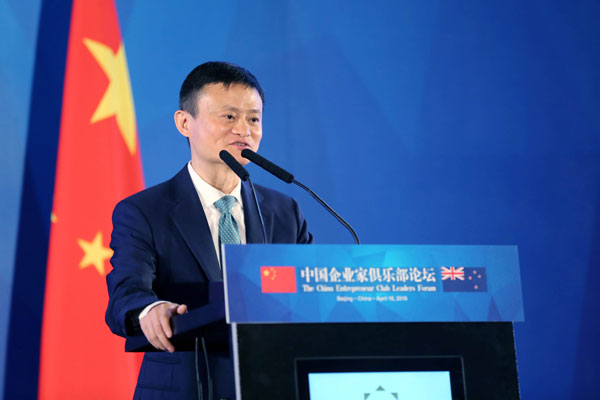 Alibaba Group Chairman Jack Ma at the China Entrepreneur Club Leaders Forum in Beijing on April 18.[Photo by Chen Yingqun/chinadaily.com.cn]
The New Zealand Trade Enterprise and Alibaba Group signed a memorandum of understanding (MOA) on April 18 in Beijing. The MOA was signed to help more New Zealand businesses sell their products to China through Alibaba platforms.
The signing ceremony was conducted after the China Entrepreneur Club Leaders Forum under the witness of New Zealand's Prime Minister John Key and Alibaba Group's Chairman Jack Ma.
The forum, hosted for John Key's business delegation and Chinese leading entrepreneurs, aimed at opening a discussion with the China Entrepreneur Club, a business organization and non-government organization established in 2006.
Ma says during the meeting that there are many small businesses in New Zealand who could offer very good products and services, but don't know how to sell to China. Ma added that in China, there are hundreds of millions of young people who know how to sell but don't have good products.
"We would do some training program in New Zealand, to train the New Zealand small businesses, how they can sell to China, what is the procedures, what is the payment, what is the logistics, it probably takes two weeks and you could do better. So we have Taobao (China's major online-shopping platform, which is owned by Alibaba), we have Alibaba university, we would either to do the training in New Zealand, or invite the New Zealand entrepreneurs to stay in China for two weeks," says Ma.

The second option is to open an Alibaba business embassy in New Zealand, and there are already excellent people in New Zealand ready to join this project, he says.
Milk powder, honey, and sea food are all New Zealand products that are very popular on Alibaba's online selling platforms. Ma says that last year, in one day, they sold 50,000 oysters from New Zealand.
Ma says that Chinese consumers are now buying food from New Zealand, but what we should really buy is New Zealand's environmental technology and concepts, which made the country become a healthy and innovative place.