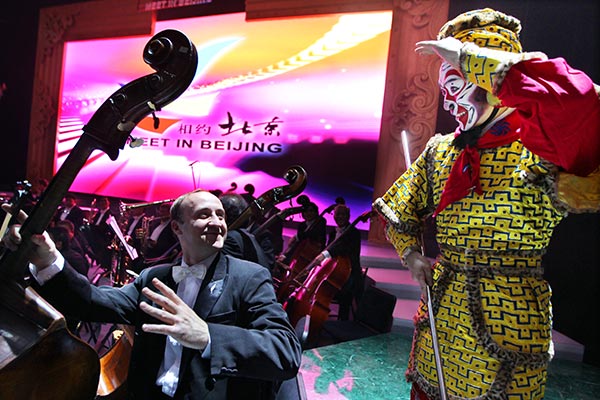 A Chinese actor dressed like a Monkey King performs before musicians of an Australian orchestra during a Sino-Australian cooperative concert.[Provided to China Daily]
China Poly Culture Group Corp Ltd, a producer of Chinese plays and a subsidiary of State-owned China Poly Group Corp, is pushing forward its cooperation agreements with theaters in the United States and Europe, to introduce its cultural products to the Western markets.
The Beijing-based Poly Culture also plans to create an international performance alliance with focus on musicals. The proposed alliance could also invest in musicals and organize shows worldwide, according to the company.
Founded in 1992, Poly Group's roots have sunk deep into several sectors, including cultural and arts operations, international trade and services, real estate development, and production and sales of civil explosive goods.
Xu Niansha, chairman of Poly Culture, said: "Unlike the export of manufactured goods, the export of cultural goods undertakes the responsibility of cultural communications between different countries, and spreads China's image overseas.
"The export of cultural goods bears economic significance, and it helps enhance the soft power of the country, in addition to selling goods. Chinese enterprises have many advantages in expanding overseas, but it's difficult to earn some quick money."
From 2009 to 2014, the Shanghai- and Hong Kong-listed Poly Group saw its total revenues rise to 21.9 billion yuan ($3.4 billion) from 6.8 billion yuan, with a compound annual growth rate of 26 percent. In the same period, its profit grew to 15.8 billion yuan from 5 billion yuan, according to its earnings report.
In the past, Poly Culture mainly helped domestic cultural enterprises to export their products to emerging markets such as Southeast Asia.
Now, exports of cultural products have become a critical part of its overseas expansion. It often goes abroad to perform, and introduces foreign plays and orchestras to China.
In the past few years, Poly Culture has put on live performances of original Chinese musicals in mainstream theaters in Southeast Asia and South Korea. Those include famous works like Butterfly and the Winter of Three Hairs.
That's because in Western countries and developed markets, watching live performances has become highly organized, a part of daily entertainment, just like watching films.
In Australia, 78 percent of residents watched live performances in 2012, while the corresponding figure for Hong Kong was 41 percent. But on the Chinese mainland, only 11 percent of urban population watched live performances, indicating a significant growth potential for the business of live performances in China.
Xu said scarce talents are the biggest challenge to the export of high-quality Chinese performances. In China, there is a lack of cultural personnel who are capable of managing international business.
So, Poly Culture is focusing on creating a team of multinational talents. It is bullish on the opportunities the Belt and Road Initiative would bring for cultural enterprises in China.