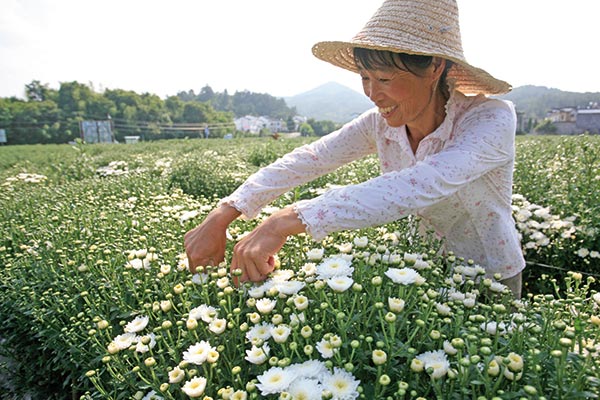 A farmer picks chrysanthemum flowers in Huangshan, Anhui province, to be used as tea.[Provided to China Daily]
For years, Wang Haiyan, a national lawmaker from a remote village of Chongqing municipality, has brought in new breeds of chickens back to his village. After raising chickens producing more eggs and higher quality meat than traditional breeds, farmers went from impoverished to well-off.
Meanwhile, the village also established agricultural cooperatives, growing more profitable crops and vegetables.
Farmers have been invited to let their individual plots to the scheme and accept salaries for working the land.
"By changing the way we farm and improving the quality of supply, we have made our products more desirable in the market," Wang said.
Rural business woman Yang Xue, also from Chongqing, owes her success to the effort to upgrade products.
After graduating from college in 2007, Yang went back to her village and founded a company producing chrysanthemum tea.
"Chrysanthemum tea is quite sought after in the European market, but only those with organic certification by the EU can enter the market," she said. "The ordinary chrysanthemum tea grown by Chinese farmers is usually priced by the ton, while those with the EU organic certification are priced by the gram."
Through changing farming methods, Yang got the certification and her products are not only sold well in Europe but also gaining popularity in the domestic market.
"With the improvement of living standard, Chinese customers are having an ever higher requirement for agricultural products," she said. "The farmers, especially those in the under-developed western area, have to change their way of thinking and production in order to meet the growing need."
Hua Quan, a national lawmaker and a Buyi ethnic in Guizhou province, has seen a tourism boom in his village for years.
"Traditionally, the farmers lived by growing corn and rice," he said. "Since 2007, we have been relying on our special Buyi ethnic culture to develop tourism.
"Two years ago, some visitors suggested that we should have fruit-picking programs," he said. "We planted a large area of strawberries. In April, when the fruits ripen, tourists come and line up to pick fresh fruits from the gardens."
As a result, the average annual income of the villagers grew from 2,400 yuan ($369) in 2007 to 10,800 yuan last year. "We will further promote the upgrade of our industry to better meet tourist demand," he said.
Shu Mingyong, a national lawmaker and founder of an automobile accessory company in a township of Guizhou, said, "There are a set of challenges faced by the business starters in rural areas. Despite the growing trend of migrant workers going back to their homes to start companies, some of them have to give up and go back to cities later on."
"Lowering the finance costs for rural business starters is key to the development of the rural economy," he said. "Hopefully, the government and financial organizations can offer more support to small companies in the countryside."
Hua said, the countryside is in urgent need of talents, especially those with a command of knowledge about emerging technologies and marketing.
Hua expects more preferential policies will increase the attractiveness of the countryside for young talents.