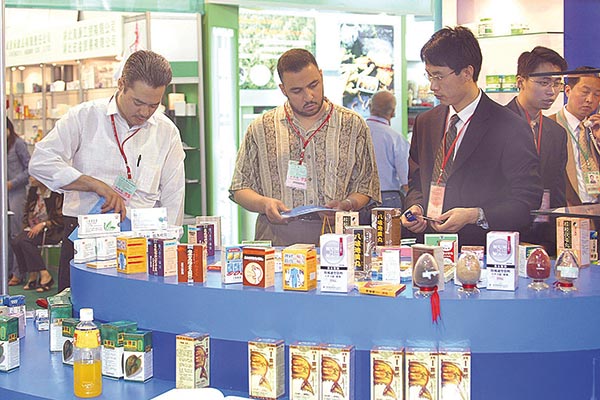 Some European businessmen inspect traditional Chinese medicine products of a drug store in Guangzhou. An increasing number of Spaniards choose TCM to improve their health.[Provided to China Daily]
More and more Spaniards have begun to choose traditional Chinese medicine and see its positive effects on their health. Spain was among the first in Europe to promote Chinese medicine, its education and healthcare. As time went by, more Spaniards chose Chinese medicine to improve their health.
Liliana Acosta was an acupuncture doctor at Neijing School in the Spanish capital of Madrid. She told Xinhua that Chinese medicine "is starting to become known" and people have realized that "it has very positive effects."
Chinese medicine sees the body as an energetic system in dynamic balance. When balance and harmony are maintained, people enjoy good health. If there is imbalance, disharmony and diseases occur.
Angeles Jimenez, also an acupuncture doctor at Neijing School, explained to Xinhua that "an energetic imbalance will lead to symptomatology. We try to recover this energetic imbalance."
Asuncion Perez is a 64-year-old nurse who has accepted acupuncture for two years. She told Xinhua she had a positive experience.
"I was born with a problem in my hips, and received an operation when I was four. I have been doing acupuncture for two years since I was 55," said Perez. Later, she got another operation done.
After two months of acupuncture, Perez felt her pain relieved and she started to sleep better. "My acupuncture doctor told me that I had to undergo an operation and I finally did, but acupuncture helped reduce my pain and made me rest better."
Perez believed that Western medicine and Chinese medicine can be complementary, saying "there are diseases that cannot be healed, neither of them (Chinese and Western medicine) can produce miracles."
Doctor Acosta commented that Chinese medicine competes with Western medicine in some aspects because the former "is economical for the patients, it does not generate so much expense, and has no adverse effects or side effects."
When the 12th World Congress of Chinese Medicine was held in Spain's northeastern city of Barcelona last September, the organizers of the meeting pointed out that the number of European patients following Chinese medicine has surpassed 5 million every year.
The development of Chinese medicine has been at an advanced level in South Europe (Spain, Italy and Portugal), considering the large number of clinics, practitioners, and related education, training and research institutions.