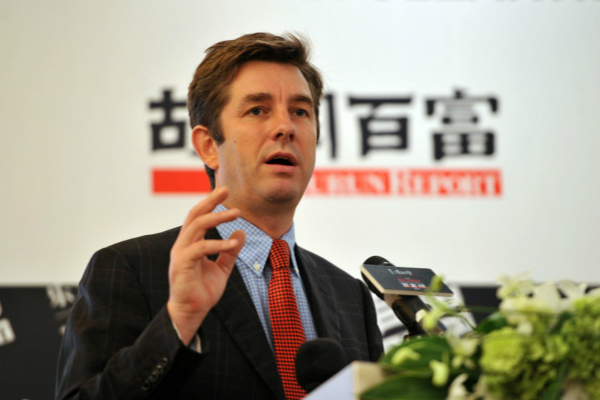 Rupert Hoogewerf, also known as Hu Run, the Founder and Chief Researcher of Hurun Report [Photo provided to chinadaily.com.cn]
Rupert Hoogewerf, whose Chinese name is Hu Run, is the publisher of the Hurun Report, and he says if you understand the story of wealthy Chinese, then you will understand the story of modern China.
The Hurun Report, viewed as the voice of the Chinese entrepreneur, is best known for its "China Rich List" which has been published since 1999, and which ranks the wealthiest individuals in China.
"The key thing I do is try to encourage transparency, because if you can be transparent, that means you can take responsibilities. If you can take responsibility, that means you are probably good for society," Hoogewerf told China Daily in an exclusive interview.
He commended Jack Ma, the founder of e-commerce giant Alibaba, saying even though his business is very complicated and large, he is very transparent. "Everybody knows what he is doing, which means he must be responsible, otherwise he will get into a lot of trouble," he added.
"What makes the Chinese entrepreneurs very interesting for me is that they are learning together and building the experience together, that makes a very fast-growing and dynamic group of people, which I think by comparison that the UK does not have," said Hoogewerf.
He is, he said, a little disappointed when he sees that most UK entrepreneurs only act on their own, adding "maybe because there are less of them, there does not seem to be the same level of 'let-us-build-together' sort of mentality."
Due to the economies of scale and market size, there is now an estimated number of 300 million middle class people in China, which is probably one of the largest middle class groups in the world, said Hoogewerf.
Dictionaries define middle class as a group of people, often salaried and educated, with disposable income.
"If you can build a brand, an image or a business for 300 million people in China, by definition you have the biggest market in the world. You will be the leader in that particular market and when you go overseas you can then build leadership using your foundation in China. And if you win in China, you will have a very good chance winning in the world," he added.
Sanpower Group, which now owns the British department store House of Fraser, is a successful example of Chinese enterprises going overseas, said Hoogewerf, adding "they are very specific about their management – they only have British management in Britain, not a whole lot of Chinese management. This is easy to say but very difficult to do."
For its contribution to the business relationship between the UK and China, Sanpower Group was awarded the Best Contribution Award in the business category at Hurun Report 2016 Chinese New Year Award Dinner in London. It is the largest Chinese employer in the UK, with 13,000 full-time employees.
In addition to the rich list, Hurun Report also produces "Hurun Philanthropy List" from 2004, a ranking of the most generous individuals in China. Nowadays the philanthropy list is more about impact investing than mere donation, according to Hoogewerf.
Impact investing is where you make a decision to reduce the time to achieve the goal, he said, adding, "for example Jack Ma and Ma Huateng; those two people have made China digital faster."
If it were not for Jack Ma and Ma Huateng, founder and CEO of Tencent Holdings, China would still be digital, but it would have come ten years later, Hoogewerf said. "Those two people sped up the digitalization in China, and then they became leaders not only in China but also the whole world."
"They changed the country and almost everyone in China uses WeChat, Alipay and Taobao. If they did not do it or did it five or ten years later, China would have lost the leadership in the world. To me, it is about impact," added Hoogewerf.
The Hurun Art foundation is another example, he said. "We wanted to find some KPI (Key Performance Indicator) to promote Chinese culture and art both domestically and internationally through research, exhibition, and promotion, making people more aware of and understand more about the Chinese art. That's impact investing, not just pure donation."
About 10 years ago, Hoogewerf found out that most successful and expensive Chinese art was bought by non-Chinese, so he created the Hurun Art List, which ranks the most successful artist alive today in China. The objective is to encourage non-collectors to be collectors. It's for people outside the art industry, he said.
The art list drew a lot of attention amongst artists because it was targeted at drawing in new collectors, and it became a benchmark for non-collectors to kick start their collections. The Hurun Art Foundation, not for profit, then started because Hoogewerf realized that more up and coming artists need support, over and above the well-known artists.
Every month the Hurun Art Foundation will promote one artist, using its media platform in China, and in addition a monthly event will be launched to promote the artist. This year the Hurun Art Foundation brought its exhibition to London for the first time.
These artists are not famous at all and the cost of their artworks ranges from 5,000 pounds up to 15,000 pounds, which is far less than that of famous artists, said Hoogewerf.
"But they are good and contemporary, and they tell the story of modern China through the eyes of the artists," said Hoogewerf, "the artists have one common thread, that is we hope these artists will be on the Hurun Art List in five years."
He is keen on taking the exhibition of Chinese artists to both London and New York next year, one month in each location.
"If you get recognized as a Chinese artist by the London or New York trade, it is very good for your sales in China, because the global art market is dominated by London and New York," Hoogewerf said, adding "if we can build the Hurun Art Foundation into a credible and serious platform, we will create more value for these artists."