The 13th Five-Year Plan (2016-20) is about to come into effect. As the nation waves goodbye to double-digit growth and tries to accommodate the new normal, overseas businesses also have to adjust to a slower China. To gauge business opinion, China Daily invited executives from several multinational companies operating in China to share their views on the outlook for the Chinese economy.
Q1: China has set a GDP growth target of 6.5 to 7 percent for this year. It's the first time that a range rather than a specific rate has been set as a target. What do you make of this change, and what is your understanding of such a flexible target?
Q2: In your view, what are the major opportunities and challenges for the Chinese economy in 2016?
Q3: In the context of supply-side reforms that are currently being emphasized, do you see any opportunities for your business in the 13th Five-Year Plan?
Q4: China has raised this year's fiscal deficit target to 3 percent of GDP in a bid to bolster government spending and ease the corporate tax burden. How do you think this move will help businesses?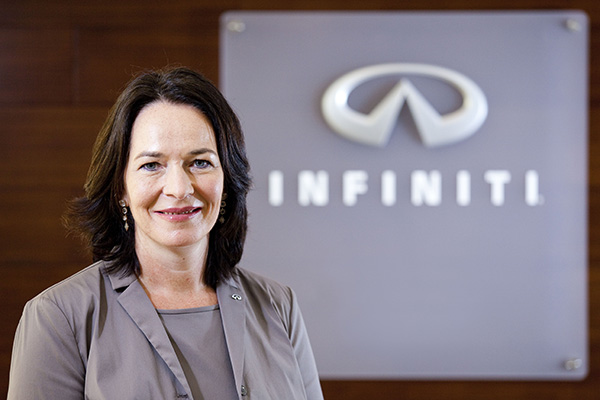 Gaby-Luise Wuest, President, Dongfeng Infiniti Motor and managing director of Infiniti China. [Photo provided to China Daily]
A1: The move is in line with the Chinese government's efforts to adjust the economic structure to achieve better-quality growth. The target of a single year is important, and at the same time, we are confident about the mid- and long-term prospects of the Chinese economy.
We at Infiniti are also aiming for long-term, sustainable, quality growth in China, our second-largest, fastest-growing market. We are the only premium car maker with headquarters in Hong Kong, and we started local production in Xiangyang, Hubei province, more than a year ago to get closer to local customers.
A2: Reform is often accompanied by challenges and pains. Economic restructuring is obviously tough for some traditional industries. For example, these days there's a lot of discussion about the scenario of reemploying a couple of million workers who may need to be channeled out of steel plants. Meanwhile, the government's constant efforts to foster new, innovative business seem to be paying off. Last year, the service sector's share of GDP exceeded 50 percent for the first time.
A3: In the context of the supply-side reforms, China's domestic demand will continue to expand in the next five years. From an auto-industry perspective, we believe that growth in the premium car market will gain momentum this year, and sales of premium cars will probably rise by 10 percent to more than 2 million vehicles. Opportunities also lie in new-energy vehicles and second-hand vehicles, which were mentioned in the Government Work Report.
Also, supply-side reform requires companies to focus more on innovation, and therefore provides opportunities for innovative manufacturers. As a young, premium auto brand, Infiniti is dedicated to innovation in areas such as safety technologies, hybrid power trains and autonomous driving to offer customers the best products.
A4: The expansion of the fiscal deficit is crucial to ensuring the economy stays on a relatively fast track and for companies to run business in a generally positive and healthy environment.
Reduction of taxation is a more direct incentive to companies, which means lower financial burdens and a chance to offer more-competitive prices. While costs are down, people also tend to find it easier to start new businesses and employ people. Normally, tax reductions generate a very positive chain reaction for the economy and society.