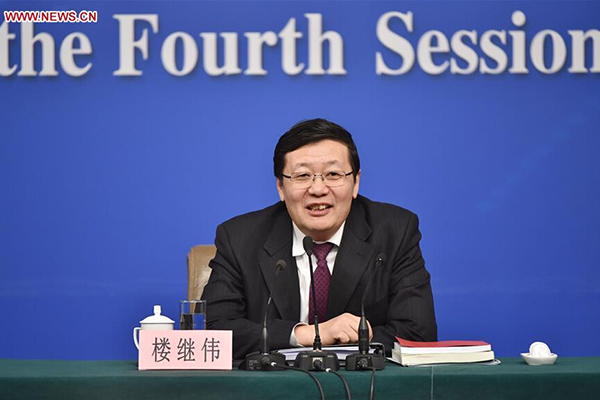 Chinese Minister of Finance Lou Jiwei gives a press conference on the sidelines of the fourth session of China's 12th National People's Congress at the press center in Beijing, capital of China, March 7, 2016. [Photo/Xinhua]
BEIJING - The widely held belief that the Great Hall of the People, iconic edifice of China's political democracy, had little room for spontaneous dissent crumbled today when Finance Minister Lou Jiwei delivered a lengthy attack on a standing law, live on national TV.
Monday was the third day of the national parliamentary session, and the news briefing where Lou made his unprecedented statement was hosted by the National People's Congress (NPC), the body which approved his nomination as Finance Minister and whose Standing Committee in 2007 passed the Labor Contract Law which has so irked the minister.
Hundreds of reporters were present to hear the man who holds China's purse strings, when one of them, citing complaints from entrepreneurs, lit Lou's fuse by asking about previous criticism he had made of the law.
Those comments had been to a rather different audience, one composed mainly of academics in Tsinghua University and on another occasion at a scholars' forum. Well-known as a no-nonsense straight-talker, Lou held nothing back.
The minister's argument is that the law is overprotective of employees, making employers unwilling to create jobs and invest in training. This, Lou claims, ultimately hurts workers by denying them jobs openings or the opportunity to improve their skills.
"For enterprises and employees, the extent of protection afforded by the Labor Contract Law is unbalanced," Lou said. "For prospective employees, especially the low-skilled, the law discriminates against them.
"As employees are allowed to terminate employment easily with only one month's notice, employers lack the motivation to invest in training. Why would any business spend money on training them? Our acute shortage of medium to highly skilled technicians partly stems from this law."
"An employee may not work hard and the law makes it difficult for the employer to deal with by, for example, firing him or her. That prevents another prospective employee from taking the position."
Lou is not the first to voice concern over the Labor Contract Law. The draft spent nearly a year in front of the cabinet before being submitted to the Standing Committee of the NPC and took another 19 months to be approved.
In China drafts are usually read three times, but the labor contract draft was read for a fourth time, after its full text was released for public consultation.
It was a time of breathtaking manufacturing growth in China, built mainly on the efforts of a labor force who, according to the law's proponents, were deprived of their fair share of prosperity. Opponents of the law argued to no avail, that the bias toward employees would increase business costs and hurt job seekers.