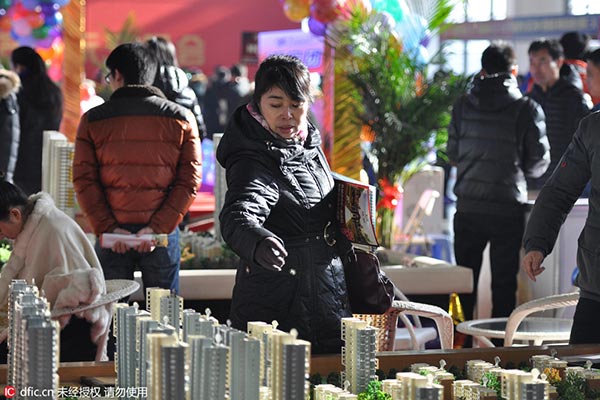 Chinese homebuyers look at housing models of residential property projects during a real estate fair in Shenyang city, northeast China's Liaoning province, December 18, 2015.[Photo/IC]
The property market in many cities has been red hot recently, however the sector is still facing big inventory pressure, the Beijing News reported Wednesday.
New policies are being carried out by many cities in order to ease the pressure. China's Northeast city Shenyang issued a notice that said that college graduates and secondary vocational school students will be able to buy property with zero down-payment.
However, it later said the government was still studying the policy and was not rolling it out yet.
Even though it is too soon to get excited over the favorable 'policy', the announcement triggered an online debate. A Shenyang citizen Wang told the newspaper that it would ease parents' pressure if there is a zero down-payment policy for students who want to purchase property. However, if the market falls, young people might not be able to bear the hit.
Industry analysis shows that the commercial residential housing inventory in Shenyang by November last year was 29 million square meters and it will take two years to absorb it, the newspaper reported.
According to official statistics, the area for sales of commercial residential housing by the end of 2015 nationwide was 710 million square meters, almost 100 million square meters more than that in 2014.