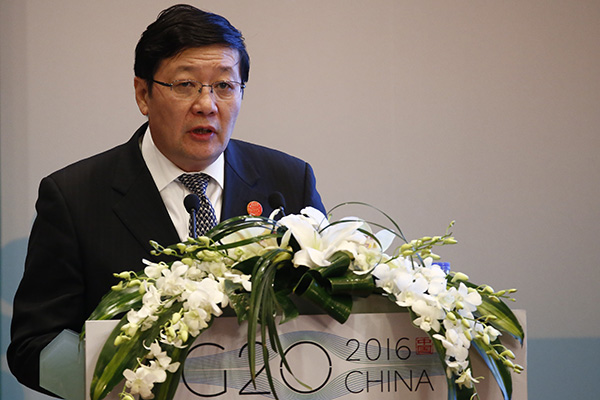 Finance Minister Lou Jiwei speaks at G20 meeting in Shanghai, Feb 26, 2016. [Photo/CFP]
Structural reform is the answer to faltered global growth and receding productivity gain, said officials at G20 meeting in Shanghai on Friday. But the sequencing of reform measures also matter to prevent unintended negative effects, they said.
"Whether the world could deliver strong, exclusive and sustainable growth really depends on the pace of structural reform," Finance Minister Lou Jiwei said. "The overall reform of G20 has lagged expectations in recent years, so it is critical to strengthen the G20 reform agenda."
His remarks are seen as a nuanced criticism that seven years after global financial crisis, governments around the world still have been mainly relying on monetary easing to stimulate economy at the expense of structural reform.
A report released by OECD on Friday struck the alarm bell by revealing that productivity gain has decelerated in advanced economies since 2000, and also in emerging economies recently. It warned that the pace of reform has steadily declined since 2011-12.
"At a time that called for accelerated reform, leadership and political guts, the reform actually slowed. It is deeply disturbing," said Angel Gurria, secretary-general of OECD.
International Monetary Fund chief Christine Lagarde echoed the sentiment. She said in the "fragile environment", countries need urgent actions not only to boost economic potential, but also to boost confidence about the recovery and near-term growth.
However, Lou warned that while structural reform is needed and can boost long-term growth potential, some would take time to see benefits and might have deflationary effect in the short term. So it is important, especially during depressed time, to "get the sequencing right" and implement reforms that take shorter time to see effects and those that could boost aggregate demand.
Lou cited the example of cutting red tapes, tax cuts that encouraged innovation, and greater internal migration — they are structural reform policies that in effect bolster demand.
Commenting on fiscal deficit this year, Lou said the country's deficit ratio is set to rise, without elaborating specific number. Most economists expected China's ratio of fiscal deficit as a percentage of GDP to rise to above 3 percent from last year's 2.3 percent.
"Unlike other economies, China has room for fiscal policy," Lou said. But he later warned against complacency, stressing that the room is not "infinite", which could run its course if reform agendas are delayed.
"You don't want to be pushed to the edge of cliff and then start reform," he said.
Lagarde also noted the supply-side reform could risk tightening demand, which is why she called for "a mix of mutually reinforcing demand and supply policies".
"For example, where labor market reform leads to job losses, demand policies can support employment by boosting firms' expectation about future output. Fiscal policies can also be used to support workers who get laid off," she said.