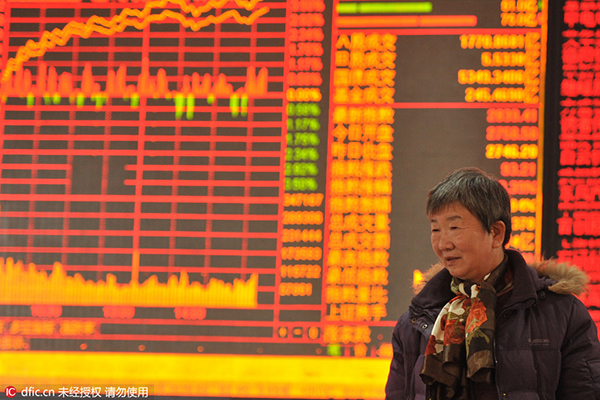 A Chinese investor smiles in front of a screen displaying stock indices at a stock brokerage house in Fuyang city, East China's Anhui province, Feb 16, 2016. [Photo/IC]
Stocks jumped the most in two weeks on Tuesday, after data showed new renminbi loans surged 71 percent year-on-year in January.
The benchmark Shanghai Composite Index rose 3.3 percent to 2,836.57 as of closing, while the Shenzhen Component Index added 3.9 percent to 10,045.37. Brokerages, transportation and technology companies led the gains.
Yonyou Network Co, Inspur Software Co, and China Shipping Container Lines Company surged by the daily limit of 10 percent. West Securities and CITIC Securities gained 7 and 6.1 percent respectively.
New yuan-denominated lending in January jumped 71 percent year-on-year to 2.51 trillion yuan ($385 billion), official data showed on Tuesday.
Meanwhile, Premier Li Keqiang in his first appearance after the Spring Festival holiday said policies used to tide over last year's unusual volatility in the stock and exchange market were a right call..
Those market-stabilizing measures, consisting with international practice, defused some "bombs" over a period of time and warded off systematic financial risk, said Premier Li at an executive meeting of the State Council, according to Xinhua.
However, authorities in charge should also draw lessons from the experience, address internal management issues and implement initiatives and take both timely and effective approach, added the Premier.
Latest statistics showed national unemployment rate rose to 4.99 percent in January after the country expanded the survey from 31 major cities to all prefectural-level cities, said Li at the meeting, adding that such level is not easy to achieve given that China has a population of more than 1.3 billion.
"As long as the labor market remains stable, the economic fundamentals are stable," said Premier, according to Xinhua.