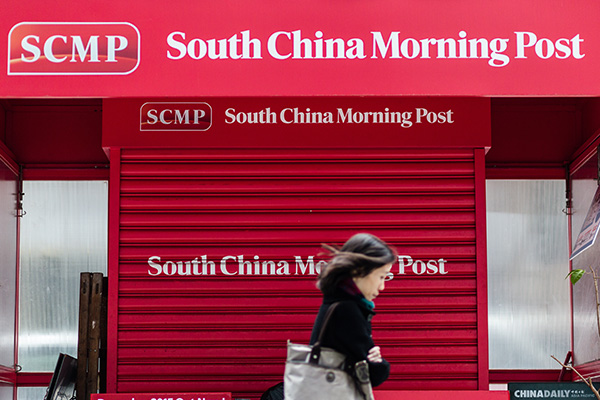 A pedestrian walks past a closed newsstand displaying the logo of the South China Morning Post in Hong Kong on December 12, 2015, following its acquisition by Chinese mainland Internet giant Alibaba Group Holding Ltd. [Photo/Agencies]
Being a reporter who has written about China in English for seven years, I have seen many colleagues leave this profession.
With professional English proficiency and in-depth knowledge of the Chinese economy and society, many of them decided to work for multinational corporations, public relations agencies or financial institutions.
Their choices are understandable as one could easily get the feeling that the profession is in decline when the entire print media industry is challenged by the rise of new media and is struggling to adapt to the digital age.
Internet giant Alibaba Group Holding Ltd's recent $266 million purchase of the South China Morning Post, the 112-year-old Hong Kong-based English language newspaper, seemed to have reinforced this pessimism.
But as a coin has two sides, a positive message from the deal is that it can be seen as a capital endorsement of the value of a media asset that focuses on telling the China story in the English language.
There have been concerns about SCMP's editorial independence after Alibaba said it was willing to use the paper to change the perception of China and improve the country's image.
One recent Bloomberg opinion piece said it would be a daunting challenge for Alibaba as "the market for neutered coverage of China is exceedingly small and is becoming smaller".
I find it difficult to agree with the statement. It is true that there are no markets for unvarnished propaganda. And yet, what I have observed is a growing and vastly unsatisfied demand from the outside world for comprehensive information about China as the country has never been so integrated with the global economy as it is today.
Foreign investors and fund managers that I have interviewed are encouraged to see that the Chinese stock and bond markets are becoming increasingly accessible to them. But they often find that understanding and navigating in the vast, diverse Chinese market is challenging.
An equity analyst at a foreign investment bank told me that her clients have been constantly asking her about where they can find comprehensive information about China in English.