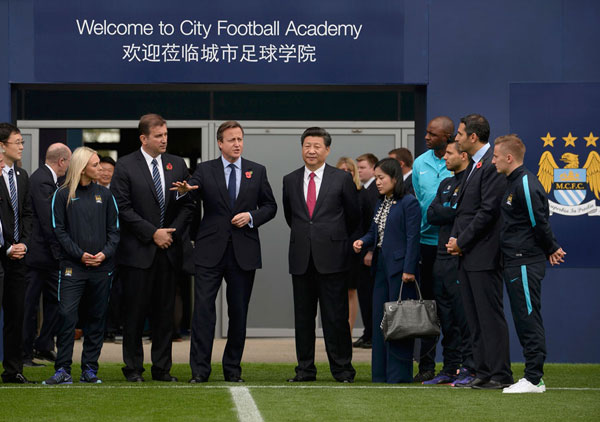 Britain's Prime Minister David Cameron stands with President Xi Jinping during a visit to the City Football Academy in Manchester, Britain Oct 23, 2015. [Photo/Agencies]
A Chinese consortium led by China Media Capital Holdings is investing $400 million in an Abu Dhabi-based company that owns Manchester City Football club, the top-ranked English Premier League team.
CMC, a Shanghai-based private equity fund that owns the broadcast rights to the Chinese Super League, is teaming up with CITIC Capital Holdings to buy 13 percent of City Football Group, which also owns New York City Football Club and Melbourne City Football Club, according to a statement on Tuesday. The deal values City Football at $3 billion.
CMC is chaired by Li Ruigang, who has led group investments including a stake in IMAX China Holding Inc, and tie-ups with DreamWorks Animation SKG Inc and Warner Brothers by the fund focused on media content and sports events.
"Football is now at a fascinating and critical stage of development in China," Li said in the statement.
"We see unprecedented growth opportunities in both its development as an industry, being China's most watched sport, and its inspirational role bringing people of all ages together with a shared passion."