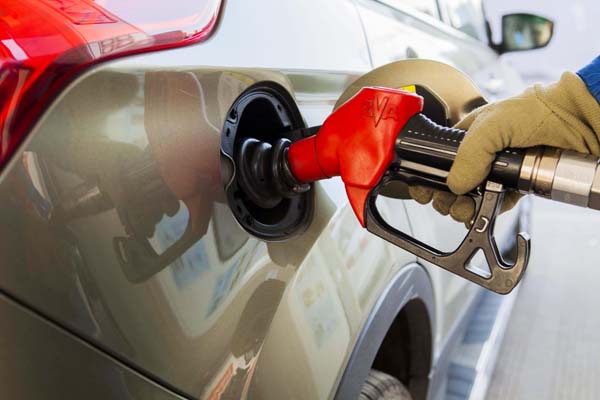 A worker fills up a car with fuel at a gas station in Lianyungang city, East China's Jiangsu province, Feb 9, 2015. [Photo/Xinhua]
The country's reliance on imported oil soared to over 60 percent last year, amid tumbling oil prices and steadily-growing domestic energy demand, a new report said on Tuesday.
China imported 328 million tons of oil, up 6.4 percent, accounting for 60.6 percent of China's total oil consumption in 2015. Oil consumption rose 4.4 percent to 534 million tons during the same period, said a report released by the Economics & Technology Research Institute of China National Petroleum Corporation.
According to the report, reliance on foreign crude will increase to 62 percent this year with total imports estimated at about 357 million tons. Crude demand will rise by 4.3 percent to 566 million tons during the same period.
"The increase is partly a reflection of the slow-but-growing domestic demand for energy," said Gao Jian, senior researcher at domestic commodities consultancy Sublime China Information Co Ltd.
He said that the deepening dependency is also a result of falling oil prices, as crude importers will buy more when the prices are low.
Benchmark Brent crude dropped to a 12-year low of below $30 a barrel this month.
Importing more than 50 percent is a globally recognized energy security alert level, some experts said, adding that the expanding oil imports pose risks to the country's energy security.
China, the world's largest energy consumer, should speed up its efforts to shift to clean energy, said Lin Boqiang, director of the research center of China energy economics at Xiamen University.
"Changing the energy mix is the only way to reduce the reliance on imports," he said. "Also, government should encourage more electric vehicles on roads, as automobiles are major energy users."
Analysts believe that by 2020, nearly 65 percent of the oil consumed in China will have to be imported. China's oil dependency reached 45 percent in 2006 and grew at 2 percent every year after that. The country first became a net importer of crude oil in 1993.
China's storage capacity of commercial and strategic petroleum reserves was 315 million barrels in 2015, the report said.
The level of China's strategic oil reserves declined to 0.7 percent by the end of last year, and refined oil reserves rose by 5.3 percent, according to another report by China Oil, Gas and Petrochemicals run by Xinhua News Agency, without revealing details on extract figures.
China is not only the world's largest oil buyer and consumer, but also a seller of refined oil. The research institute estimated exports of China refined oil will increase 31 percent to 25 million tons this year.
The country's demand for other fuels is also increasing. The country's natural gas consumption is expected to rise 7.3 percent to 205 billion cubic meters in 2016. Its gas import will increase 10. 6 percent to 69 billion cu m, the report said.